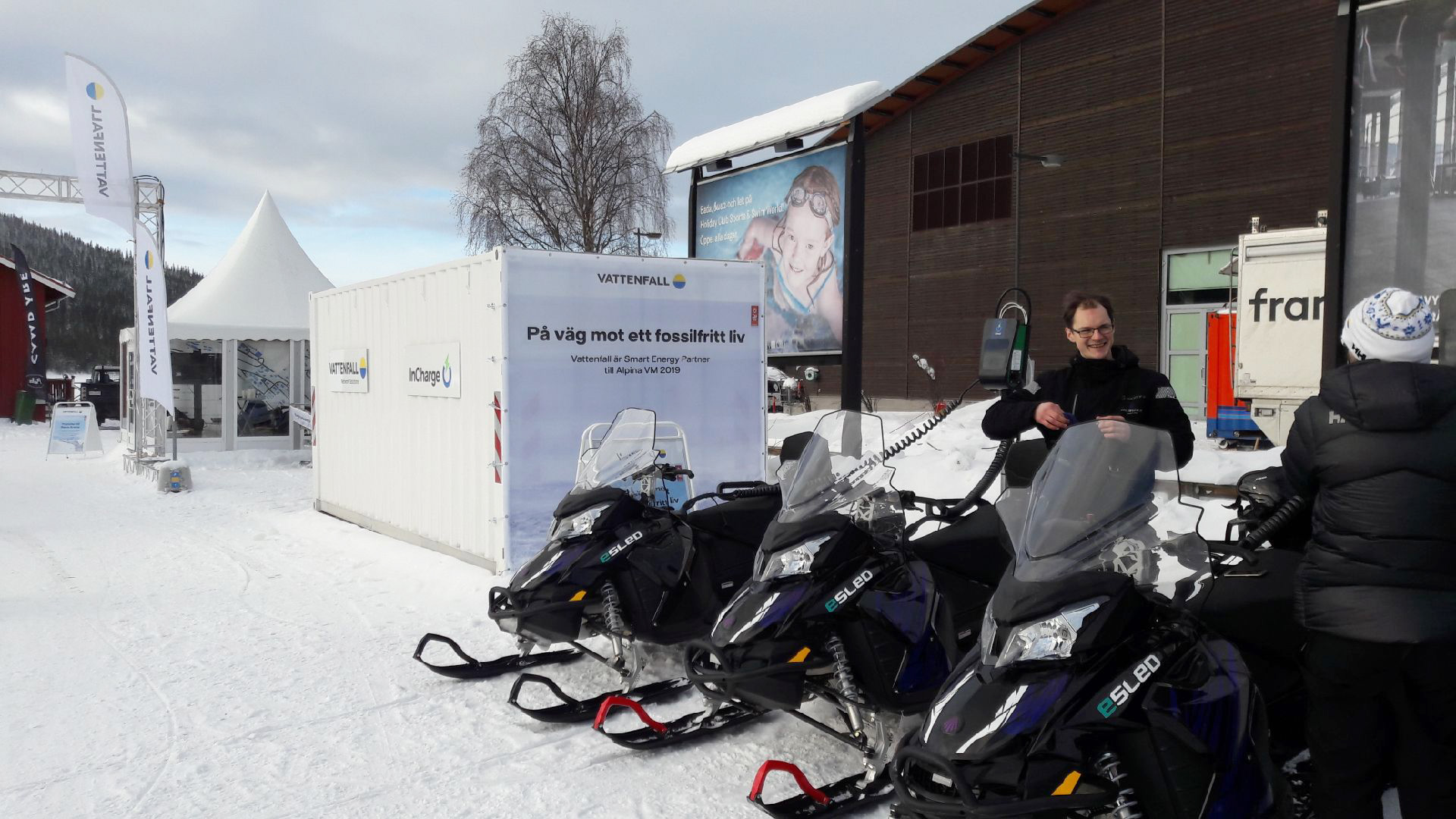 Elbilsrally er næste skridt for Vattenfalls batterilager i Åre
Vattenfalls mobile energilager forstærker nettet der, hvor det er allermest nødvendigt. Under VM i alpint skiløb i Åre anvendes kæmpebatteriet til at oplade biler og elscootere.
Ved siden af Åres store hotel ved Åre-søen står der to containere. Den ene er orange og huser et europæisk tv-selskab. Den dieselgenerator, der forsyner tv-selskabet med den nødvendige ekstra strøm til udsendelserne, kører konstant. Lige ved siden af står Vattenfalls mobile intelligente energilager med otte sammenkoblede batterier af elbilstypen, i alt 340 kilowatt-timer. Uden støj og CO2-udledning oplades arrangørens elbiler og de elsnescootere, som kører i pendulfart med tilskuere til og fra konkurrenceområdet.
Dette er klare eksempler på to forskellige måder at håndtere udfordringen med at forsyne et stort arrangement med el. Dieselgeneratorer er det almindelige, når byens net ikke kan klare den ekstra belastning. Midlertidige kabeltrækninger er også almindeligt – i værste fald med et overbelastet elnet som følge heraf. Et mobilt energilager, som ved behov kan flyttes fra sted til sted, kan være løsningen. Ved VM i alpint skiløb i Åre testes teknikken for første gang i Sverige.
Fleksible løsninger er det mest intelligente
"Vi har et projekt, som vi kalder "Fra sne til ø". Effektbehovet ændrer sig med årstiderne. På et skisted som Åre er der et stort behov for el i nogle vinteruger om året. Det er ikke klimaintelligent at ombygge el-infrastrukturen for nogle få ugers skyld. Så fleksible løsninger, der kan flyttes efter behov, er vældigt intelligent. I sommerhalvåret transporteres energilageret f.eks. til skærgården, så det ikke er nødvendigt at ombygge infrastrukturen der," siger Erik Berntsen, forretningsudvikler hos Network Solutions, et søsterselskab til Vattenfall Eldistribution.
Elbilsrally i Jokkmokk
Efter VM-ugerne i Åre skal det mobile energilager videre op til Jokkmokk i det nordlige Sverige for at oplade biler til et elbilsrally. Der er også interesse fra testbanen i den nordsvenske kommune Arjeplog, hvor der testes elbiler 12 uger om året.
"Alt er under forandring, og vi står kun ved begyndelsen. Det første, der kommer til at ske er elektrificering af transport, og det kommer til at gå stærkt. Vi arbejder på at forberede os og har nu bestilt flere mobile energilagre i forskellige størrelser. Der er helt afgjort en fremtid for denne løsning," slutter Erik Berntsen, som har været med til at udvikle det mobile energilager.