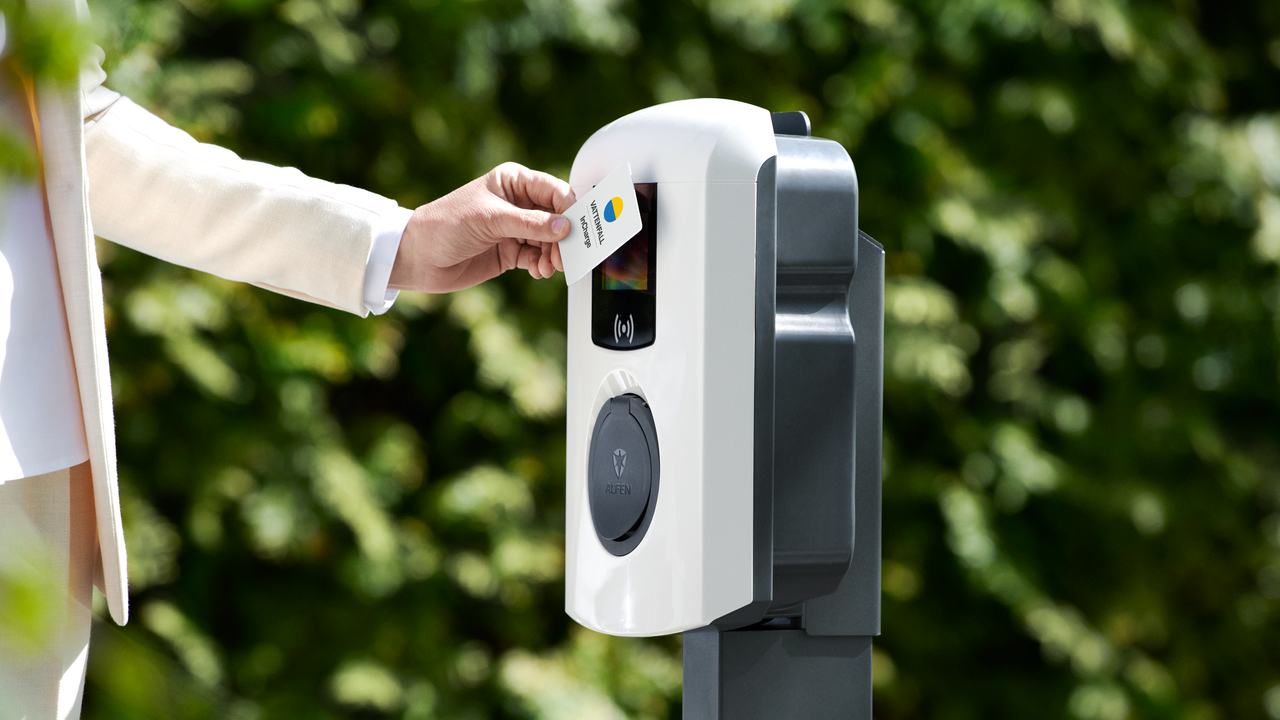 Flexibel opladen verlaagt elektriciteitsrekening en zorgt voor netstabiliteit
Gecontroleerd opladen van elektrische voertuigen kan het elektriciteitsnet de dringend nodige flexibiliteit bieden. In Amsterdam en Berlijn test Vattenfall flexibel opladen in twee interessante nieuwe projecten.
De toenemende elektrificatie van bedrijven vergroot de behoefte aan elektriciteit uit hernieuwbare energie. Naarmate de invoeding van het elektriciteitsnet varieert, wordt het steeds moeilijker om vraag en aanbod in evenwicht te brengen. Waar vinden we dus de nodige flexibiliteit in de vraag om netstabiliteit te waarborgen? Een van de antwoorden is bundeling en centrale regeling van kleine individuele installaties en verbruikers met een potentieel flexibele behoefte, om zo schommelingen te compenseren. Naarmate het aantal elektrische voertuigen toeneemt, kan ook de transportsector hier een rol in spelen.
We praten met Thorsten Möller van Vattenfall Energy Trading over de kansen die elektromobiliteit biedt voor de elektriciteitsmarkt.
Wat heeft Vattenfalls divisie Energy Trading met elektromobiliteit te maken?
"Energy Trading is verantwoordelijk voor de optimalisatie van de faciliteiten van Vattenfall en die van klanten en voor het tot stand brengen van de markttoegang voor de inkoop en verkoop van elektriciteit. Het aanbod van elektriciteit uit hernieuwbare energiebronnen fluctueert – omdat de weersomstandigheden veranderen – en dat brengt niet alleen uitdagingen met zich mee voor netbeheerders, maar leidt ook tot sterke prijsschommelingen op de zogenoemde kortetermijnstroommarkt. Die schommelingen kunnen we echter kunnen gebruiken om onze installaties te optimaliseren. Aan de ene kant ondersteunen we netbeheerders door flexibiliteit te bieden aan het elektriciteitsnet, de zogenoemde systeemdiensten; aan de andere kant kunnen we deze flexibiliteit op de elektriciteitsbeurs verkopen en extra inkomsten genereren. Elektromobiliteit kan hier ook een rol spelen. Voorwaarde hiervoor is dat zo veel mogelijk elektrische voertuigen worden gebundeld en oplaadprocessen vanaf een gemeenschappelijk platform worden aangestuurd. Dat is een opgave voor onze IT-collega's."
Zijn er voorbeelden van dat de flexibiliteit van elektromobiliteit op de elektriciteitsmarkt wordt gebruikt?
"Wat dat betreft bevinden we ons nog in de beginfase. Er zijn twee pilottoepassingen: in Nederland met openbare laadpalen en in Duitsland met het wagenpark van elektrische voertuigen van de Berliner Stadtreinigung (BSR).
Als de Nederlandse netbeheerder TenneT meer elektriciteit in het net nodig heeft, verlaagt Energy Trading via het zogeheten Flexibility Services-platform de oplaadcapaciteit van een aantal openbare oplaadstations. Zo'n verlaging duurt slechts enkele minuten en betekent voor de klant geen grote beperking. Integendeel, daardoor ondersteunt de klant actief de integratie van fluctuerende hernieuwbare energie. Dit maken we mogelijk door InCharge, ons grensoverschrijdende oplaadnetwerk, aan te sluiten op het Flexibility Services-platform. Dit systeem kan op elk moment extra oplaadstations, tot en met particuliere oplaadstations, integreren.
In Duitsland optimaliseert de BSR de oplaadprocessen van haar wagenpark elektrische voertuigen. Energy Trading levert hiervoor de basis via een oplaadplan dat we opstellen aan de hand van onze prijsprognose voor de volgende dag. De BSR krijgt zo een optimaal oplaadschema en kan profiteren van lage prijzen 's nachts of op momenten dat de invoeding van hernieuwbare energie hoog is en de prijzen dus laag zijn."
Op welke manier profiteren verbruikers ervan als zij de flexibiliteit van hun elektrische voertuigen ter beschikking stellen?
"Door deel te nemen aan een dergelijk geschakeld systeem kunnen bedrijven hun wagenpark laten opladen gedurende tijden dat de groothandelsprijzen laag zijn, en zo hun elektriciteitsrekening laag houden. In de B2C-sector worden vooral flexibele elektriciteitstarieven of uurtarieven aangeboden die gebaseerd zijn op de ontwikkeling van groothandelsprijzen. Het is denkbaar om een elektriciteitstarief aan te bieden dat verandert op basis van de groothandelsprijzen, dat wil zeggen elk uur varieert en bijzonder gunstig is wanneer de prijzen op de groothandelsmarkt bijzonder laag zijn als gevolg van een hoge invoeding van elektriciteit en een lage vraag. Dit zou een stimulans kunnen zijn voor verbruikers om hun voertuigen op deze momenten op te laden en zo kosten te besparen. Tegelijkertijd zou een dergelijk oplaadgedrag bijdragen aan de stabiliteit van het net. Op basis hiervan kunnen veel interessante businessmodellen worden ontwikkeld. Dit wordt nog interessanter als een dergelijke dynamiek ook geldt voor netwerkheffingen. Dit wordt momenteel door de wetgever besproken.
Daarnaast kunnen we extra inkomsten genereren door het leveren van systeemdiensten. Wat per geval mogelijk is, hangt voor een groot deel af van de landspecifieke voorschriften, maar ook van een goede kosten-batenverhouding, dat wil zeggen van de extra kosten voor het verlenen van systeemdiensten en de extra inkomsten die daaruit voortvloeien. Alle belanghebbenden profiteren van het leveren van systeemdiensten: het maakt het voor de netbeheerder makkelijker om de netstabiliteit te behouden en Vattenfall wordt betaald voor de systeemservice, die grotendeels aan de klanten ten goede komt."