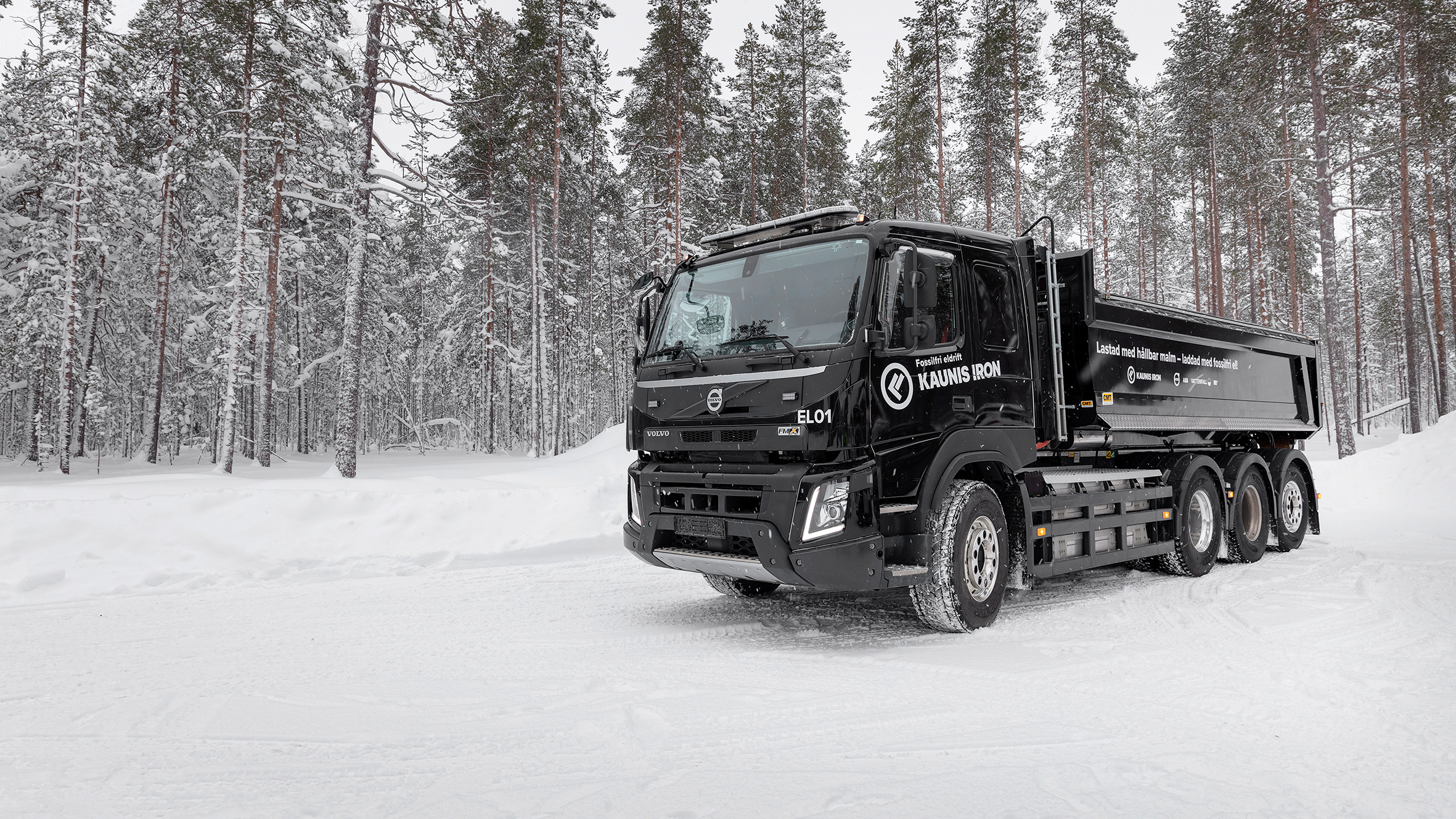 Volledig elektrische zware truck daagt het arctische klimaat uit
Kunnen elektrisch aangedreven zware vrachtwagens in Noord-Zweden bij 44 °C onder nul functioneren? Kaunis Iron werkt nu samen met Vattenfall, Volvo Trucks, ABB en Wist Last & Buss aan een uniek proefproject om een duurzaam logistiek systeem voor de toekomst te ontwikkelen.
Het doel van Kaunis Iron is om 's werelds meest duurzame ijzererts te ontwikkelen. Een van de grootste uitdagingen om dit doel te bereiken is het verminderen van de CO2-uitstoot van het zware ertsvervoer. Dit vervoer wordt momenteel in het eerste traject, tot aan de terminal waar treinen het overnemen, uitgevoerd door vrachtwagens.
Een uitgebreide studie van verschillende alternatieven heeft geleid tot een proeftest van fossielvrije elektrische energie. Er is een samenwerkingscluster gestart om een proeftest in te richten in Pajala, ten noorden van de poolcirkel in Zweden.
Kaunis Iron, Vattenfall, Volvo Trucks, ABB en Wist Last & Buss werken samen, en het project maakt deel uit van de intentieverklaring die Kaunis Iron en Vattenfall onlangs hebben ondertekend om geëlektrificeerde fossielvrije mijnbouwactiviteiten te ontwikkelen.
Lars Wallgren (foto hieronder), logistiek manager bij Kaunis Iron: "Dit soort uitdagingen kan een enkele belanghebbende niet oplossen. Industriële innovatie vraagt om samenwerking tussen deskundigen. Het is daarom verheugend dat we erin geslaagd zijn om zo'n sterk team samen te stellen om het arctische klimaat uit te dagen met elektrisch aangedreven zware voertuigen. Het wordt dan gewoon een uitdaging ... Zoals ze zeggen: 'Degenen die in iemands voetsporen lopen, kunnen nooit het voortouw nemen.' Hier nemen we het voortouw, samen. We rijden regelmatig met onze zware voertuigen in extreme winterkou. Als de technologie hier werkt, werkt hij waarschijnlijk overal."
Maria Lindberg, Manager Heavy Electrified Transport bij Vattenfall: "Onze fossielvrije elektriciteit en diensten voor oplaadinfrastructuur, waar we oplaadfuncties installeren, exploiteren en onderhouden, spelen een vanzelfsprekende rol in de ontwikkeling van geëlektrificeerd vervoer, en we zijn erg blij met deze samenwerking. Hier hebben we de mogelijkheid om een aspect van fossielvrije mijnbouwactiviteiten te ontwikkelen, een stap in de richting van een fossielvrije samenleving en basisindustrie."
Volvo Trucks levert een bijdrage met een eigen zware truck, een volledig elektrisch Volvo FMX-prototype, om te evalueren hoe elektrische trucks op batterijen, inclusief oplaadsystemen, functioneren in arctische omstandigheden.
Ebba Bergbom Wallin, Commercial Electromobility Manager, Volvo Trucks Zweden: "Het is voor ons bijzonder waardevol om onze producten in samenwerking met onze klanten te kunnen ontwikkelen. Het is spannend om de tests van Kaunis Iron van onze volledig elektrische Volvo FMX in een arctische omgeving te monitoren en te evalueren. Het helpt ons te beoordelen hoe elektrische trucks op batterijen gebruikt kunnen worden om de efficiëntie te verhogen en de klimaatimpact in extreem koude omstandigheden te verminderen."
Een deel van de tests omvat de oplaadinfrastructuur, die het opladen van de truck in de operationele cyclus efficiënt moet beheren.
Eva Kvist Östgren, Head of EV Charging Infrastructure bij ABB Electrification Sweden: "We zijn blij deel uit te maken van dit project om te testen of het haalbaar is om zware voertuigen in te zetten in extreme omgevingen met elektriciteit als enige energiebron. De drie krachtige laders van ABB maken gebruik van bewezen technologie, het zijn snelladers en ze kunnen worden gebruikt voor zowel zware voertuigen als auto's. Samen met de projectpartners leveren we belangrijke input om het gebruik van fossiele brandstoffen tot een minimum te beperken en een samenleving met een lage CO2-uitstoot mogelijk te maken."
Kajsa Friberg, Sales Manager Regio Noord, Wist Last & Buss: "Wist Last & Buss en Kaunis Iron hebben een samenwerkingsovereenkomst inzake ertsvervoer die zich vele jaren in de toekomst uitstrekt, waarbij ontwikkeling een hoeksteen is in onze samenwerking. De ervaring van dit unieke project om CO2-neutraliteit te benaderen door het elektrificeren van vrachtwagens in de meest uitdagende omstandigheden zal nieuwe kennis opleveren die de hele auto-industrie ten goede komt. Onze kracht als gevestigde Volvo-dealer die verantwoordelijk is voor heel Noord-Zweden is ons vermogen om serviceoplossingen aan de omstandigheden aan te passen. Wij voeren lokaal in Pajala en Junosuando al het reguliere onderhoud en reparaties uit van de ertswagens, in nauwe samenwerking met de verkeersbeheerafdeling van Kaunis Iron. Dat waarborgt een optimale bedrijfstijd voor de voertuigen, en ook het testvoertuig zal bij onze hooggekwalificeerde technici in goede handen zijn."
Feiten over het proefproject
Partners: Kaunis Iron, Vattenfall, Volvo Trucks, ABB en Wist Last & Buss
Testperiode: februari 2021
Voertuig: elektrische Volvo FMX op batterijen
Brutogewicht: 32 ton
Laadgewicht: ca. 15 ton
Aandrijflijn: volledig elektrisch, 400 kW, tweetraps versnellingsbak
Batterij: lithium-ion met een nominale capaciteit van 264 kWh
Laders: ABB levert drie krachtige laders van elk 175 kW. De laders kunnen geüpgraded worden tot 350 kW en hebben CCS-uitgangen.
Foto's: Tomas Bergman