Nuon opent proeffabriek flexibele zonnecellen
De zonnecellen kunnen aan de rol geproduceerd worden omdat ze flexibel en licht van gewicht zijn. Deze productiemethode biedt niet alleen het voordeel dat productie op grote schaal mogelijk is, ook de toepassing van deze zonnecellen in bestaande materialen of producten is eenvoudiger. De flexibele zonnecellen zijn makkelijker te verwerken in bijvoorbeeld dakbedekking, gevels of zelfs zonneschermen of geluidswallen.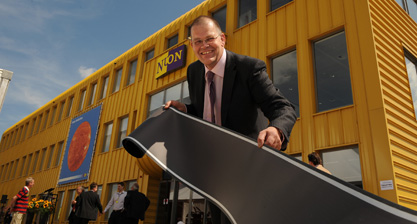 1 miljoen m2 flexibele zonnecellen
Nuon-dochter Helianthos ontwikkelt een technologie om zonnecellen aan de rol te produceren. Tot de eerste resultaten behoorde zonnecellaminaat met een breedte van 30 centimeter. In de proeffabriek worden de eerste stappen van het proces binnenkort ook uitgevoerd op laminaat met een breedte van 120 centimeter. Zodra de doorontwikkeling succesvol is, start Nuon met de bouw van een productiefabriek voor Nuon Helianthos, ook in Arnhem. De productiefabriek zal naar verwachting ongeveer 1 miljoen m2 zonnecelfolie per jaar kunnen produceren.
Wereldwijd loopt het Nederlandse Nuon Helianthos, samen met haar kennispartners, voorop als het gaat om de ontwikkeling van een nieuwe productietechnologie voor flexibele zonnecellen. Het streven is om zonne-energie aan te kunnen bieden voor het tarief van grijze stroom. De verwachting is dat door zowel de lagere kosten als betere toepassingsmogelijkheden, zonne-energie in de toekomst voor bedrijven en consumenten een stuk aantrekkelijker wordt.
Over Nuon
Nuon is een ambitieuze energieonderneming die met ruim 10.000 medewerkers meer dan 3 miljoen consumenten en organisaties bedient in Nederland, België en Duitsland. Nuon produceert, transporteert en levert elektriciteit, gas, warmte en koude, en handelt in energie op de belangrijke internationale markten. Ook biedt Nuon aanvullende diensten en technische innovaties aan bedrijven en consumenten. Nuon streeft daarbij naar een betrouwbare, duurzame en betaalbare energievoorziening.
Met een omzet van 6,1 miljard euro in 2008 heeft Nuon een vooraanstaande positie in de Nederlandse energiemarkt. De aandelen zijn in handen van lokale en regionale overheden.
Nuon heeft met ingang van 1 juli 2008 het bedrijf organisatorisch gesplitst in een netwerkbedrijf en een productie- en leveringsbedrijf. Sinds die datum functioneren beide ondernemingen operationeel zelfstandig onder een financiële holding en onder een gezamenlijke Raad van Bestuur en Raad van Commissarissen.
---
Nuon levert gas, stroom, warmte en koude aan ruim 2,6 miljoen consumenten, bedrijven en organisaties in Nederland en België. Wij helpen onze klanten om hun energieverbruik te beperken. Via energiebesparing, zonne-energieen isolatie dragen onze klanten bij aan het terugdringen van CO2-uitstoot. Wij zetten in op energie besparen en werken daarnaast aan duurzame energie oplossingen zoals windparken en biomassa bijstook.
Energieleverancier Nuon is onderdeel van Vattenfall, een van de grootste elektriciteitsproducenten en de grootste warmteproducent van Europa. Een betrouwbare, duurzame en zo schoon mogelijke energielevering staat daarbij centraal.