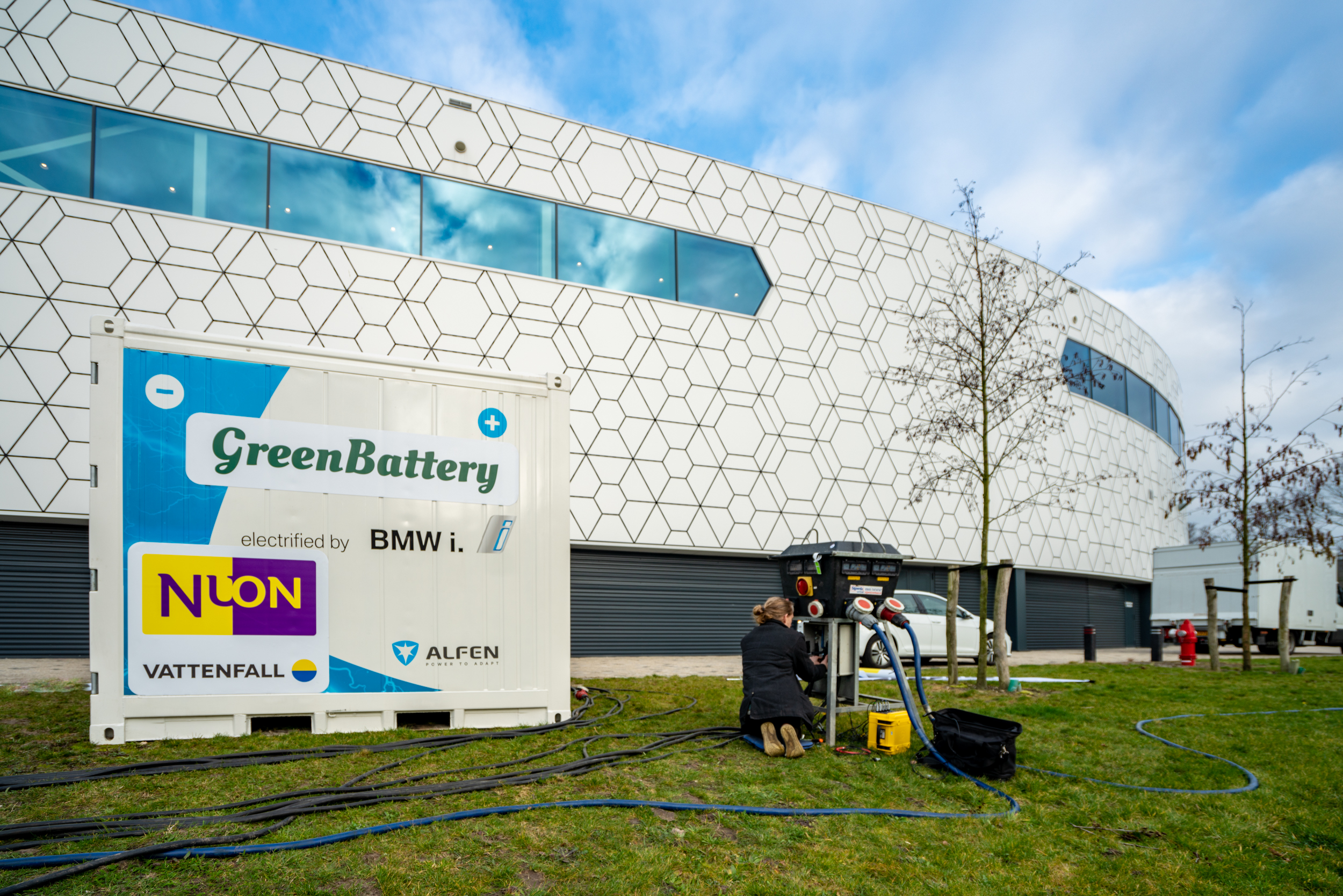 Vattenfall maakt snert in Thialf nóg groener met GreenBattery
De keuken waar de snacks voor het publiek worden bereid tijdens de wereldkampioenschappen in schaatsstadion Thialf dit weekend draait dit jaar op volledig duurzame stroom: de GreenBattery vervangt het gebruikelijke dieselaggregaat en wordt bovendien gevoed door het zonnedak van Thialf. De batterij, gebouwd door Alfen uit Almere, is vrijdag 22 februari geplaatst en bespaart gedurende het weekend circa 400 liter diesel en 1.000 kg CO2.
GreenBattery bij Thialf
Deze GreenBattery levert 250 kVA, 420 kWh en weegt circa 7.500 kg.
De GreenBattery is 3 meter lang, 2,5 meter breed en 2,5 meter hoog.
Potentiële besparing op jaarbasis is 8.000 liter diesel en 20 ton CO2.
Gebouwd door Alfen in Almere, op basis van BMW i3-batterijen (10 stuks).
Wordt gekoppeld aan het zonnedak én het voedingspunt van Thialf, zodat ook tussentijds bijladen groen gebeurt.
Zorgt voor het opvangen van de piekvraag.
De inzet van één GreenBattery bespaart tot 400 liter en 1.000 kg CO2 gedurende één toernooi.
Voor Thialf betekent volledige inzet van GreenBatteries een besparing van 4.500 liter en 11.700 kg CO2 per seizoen.
De GreenBattery is een mobiele accu waarin grote hoeveelheden elektriciteit uit wind en zon worden opgeslagen. De batterij stoot geen CO2, NOx en fijnstof uit, en is bovendien stil. De batterij is vóór plaatsing opgeladen met stroom uit wind en wordt tijdens het evenement bijgeladen met zonnestroom van het dak van Thialf, dat bestaat uit 5.000 panelen - geplaatst door Vattenfall en medegefinancierd door de provincie Friesland.
'Schaatshart van de wereld' verduurzaamt snel
Marc Winters, directeur van Thialf, is bijzonder trots op het groene stadion en de duurzame oplossingen voor sporters en bezoekers. "In 2017 openden we het nieuwe Thialf en sindsdien timmeren we hard aan de weg om volledig klimaatneutraal te worden in 2020. Bij grote evenementen zoals dit weekend waren we voorheen genoodzaakt dieselaggregaten in te zetten om aan de piekvraag te voldoen. Met de GreenBattery biedt onze energiepartner Vattenfall een duurzame oplossing die géén uitstoot, lawaai of stank met zich meebrengt."
Energiehub van Friesland
Han Huiskamp van GreenBattery vult aan: "In de toekomst willen we graag samen met Thialf een duurzame energiehub creëren voor de noordelijke provincies, waar GreenBatteries voor andere evenementen in de regio kunnen worden opgeladen met het zonnedak van Thialf. Zo kunnen ook andere evenementen met geen of te weinig netaansluitingen toch gebruikmaken van duurzame energie. Tegelijkertijd beperken we, door vanuit Heerenveen te werken, het transport van de systemen."
Peter Smink, directeur Vattenfall Nederland, voegt toe: "Vattenfall wil het mogelijk maken fossielvrij te leven, werken en reizen binnen één generatie. Dat doen we door blijvende oplossingen te bieden met wind- en zonneparken en bijvoorbeeld laadpalen voor elektrisch vervoer. En samen met GreenBattery bieden we óók een flexibele oplossing om festivals, evenementen en bouwplaatsen te verduurzamen. We zijn dan ook erg trots op deze exclusieve samenwerking."
Over Thialf
Thialf behoort tot de topijsbanen van de wereld en is internationaal de snelste laaglandbaan. Het is de thuisbasis van de Nederlands topschaatsers en het podium voor de grote nationale en internationale toernooien. Met alle overige hoogwaardige topsportfaciliteiten wil Thialf daarmee het schaatshart van de wereld zijn. Het sinds 2017 vernieuwde Thialf is ook een van de duurzaamste stadions ter wereld. De energiereductie ten opzichte van het oude Thialf was meer dan 50%.
Over Vattenfall
Vattenfall levert energie en duurzame oplossingen aan 2 miljoen klanten in Nederland en werkt samen met bedrijven, overheden en partijen als woningbouwcorporaties. Vattenfall heeft 4.800 medewerkers in Nederland en heette tot 2019 Nuon. Met 20.000 collega's in Nederland, Zweden, Duitsland, Denemarken, Finland, Groot Brittannië en Frankrijk werkt Vattenfall aan de ambitie om binnen één generatie fossielvrij leven mogelijk te maken.