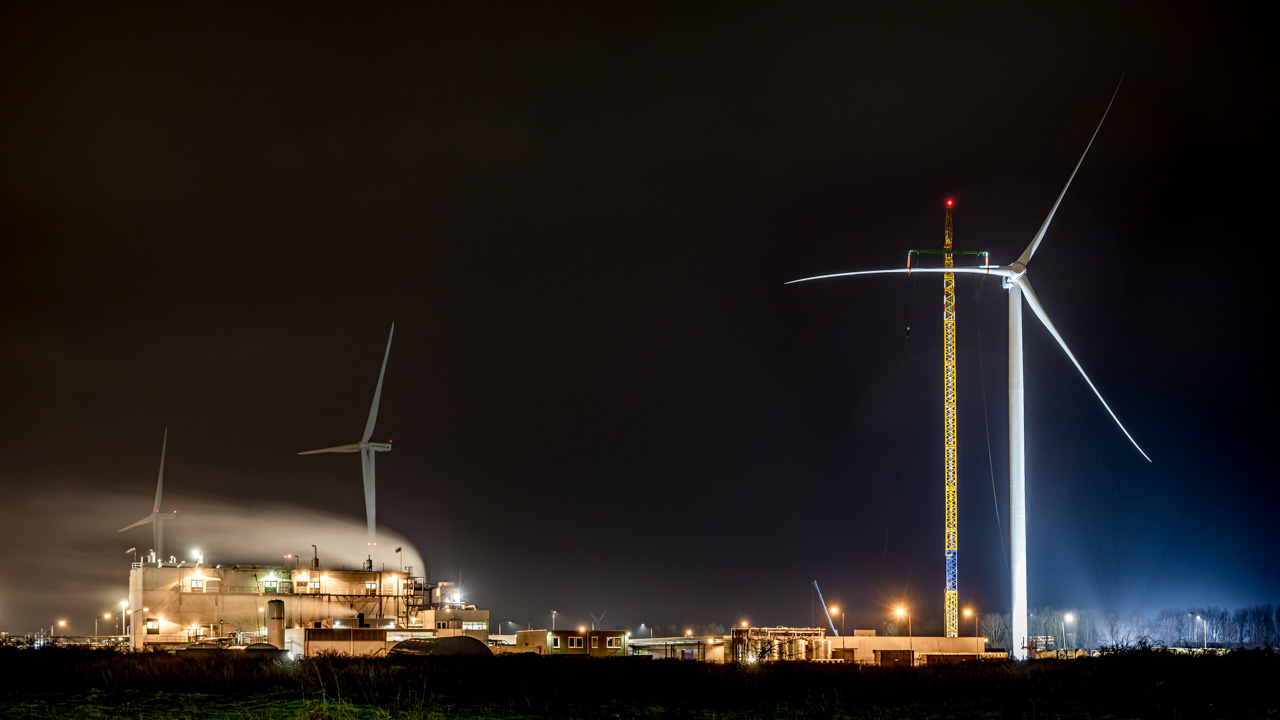 Laatste windmolen Windpark Industrieterrein Moerdijk geplaatst
Vattenfall heeft de zevende en laatste windmolen voor Windpark Industrieterrein Moerdijk geplaatst. Zaterdagnacht werden de laatste bladen aan de windmolen bevestigd. Hiermee bereikt Vattenfall een belangrijke mijlpaal in de bouw van het windpark. Nu de bouwfase is afgrond volgt een periode van testen.
De afgelopen maanden werd vooral 's nachts hard gewerkt om de zeven windmolens van Windpark Industrieterrein Moerdijk te plaatsen. Door in de nacht te transporteren en hijsen werd het verkeer in de omgeving zo min mogelijk gehinderd en bleef de veiligheid tijdens de bouw gewaarborgd.
Windmolens worden natuurlijk gebouwd op locaties waar het veel waait, maar tijdens de bouw kan die wind wel lastig zijn, zegt site manager Erik Duijtshoff: "Om de 60 meter lange bladen te kunnen hijsen mag het niet te hard waaien, maar dit najaar waaide het juist vaak wat harder dan normaal. Tel daarbij op dat we alleen 's nachts windmolens mochten bouwen. Dat zorgde wel voor wat uitdagingen. Mede dankzij de prettige samenwerking met Port of Moerdijk en Shell hebben we het voor elkaar weten te krijgen. Zo maakte Shell het bijvoorbeeld mogelijk om windmolenonderdelen enige tijd op hun terrein te stallen. Ook met Port of Moerdijk verliep de afstemming over bijvoorbeeld wegafzettingen soepel."
Testen en eerste groene stroom
Na de installatie van de zevende windmolen van Windpark Industrieterrein Moerdijk begint Vattenfall met de testfase. De verwachting is dat Vattenfall eind januari of begin februari kan beginnen met het proefdraaien. Ook wordt de laatste hand gelegd aan het park. Zo moeten er nog hekken worden geplaatst en zal de grond rondom de windmolens netjes worden afgewerkt. Windpark Industrieterrein Moerdijk wordt in het begin van het tweede kwartaal van dit jaar opgeleverd. De zeven windmolens zullen samen 25 MW groene stroom leveren.
Slimme kastjes op een windmolen
Naast groene stroom levert Windpark Industrieterrein Moerdijk straks ook data. Op een van de windmolens komt een ontvanger voor slimme sensoren. Het kastje haalt informatie op over de luchtkwaliteit en hoeveelheid CO2-uitstoot in een gebied. Dit is eenvoudig in te zetten is voor scheepvaart, spoor en industrie én door gemeenten, overheidsinstanties, bedrijven en particulieren. Het is voor het eerst dat een ontvanger voor slimme sensoren op een windmolen wordt geplaatst. Verspreid over heel Nederland worden dergelijke kastjes wel regelmatig op gebouwen bevestigd.
Over Windpark Industrieterrein Moerdijk
De zeven molens van Windpark Moerdijk staan in het haven- en industriegebied van Moerdijk. De elektriciteitsproductie van de windmolens komt overeen met het jaarlijks energieverbruik van ongeveer 27.000 Nederlandse huishoudens. Om ervoor te zorgen dat ook inwoners van Klundert en Moerdijk voordeel hebben, komt er een windfonds. Dat fonds investeert in projecten die de lokale energietransitie versnellen en inwoners helpen verduurzamen.
Bijzonderheden van de windmolens
7 windmolens met een gezamenlijke capaciteit van 25 MW
64,7 meter lange bladen die per stuk 15,7 ton wegen
180 meter tiphoogte
De diameter van de fundatie voor een windmolen is 14,5 meter
Foto: Jorrit Lousberg