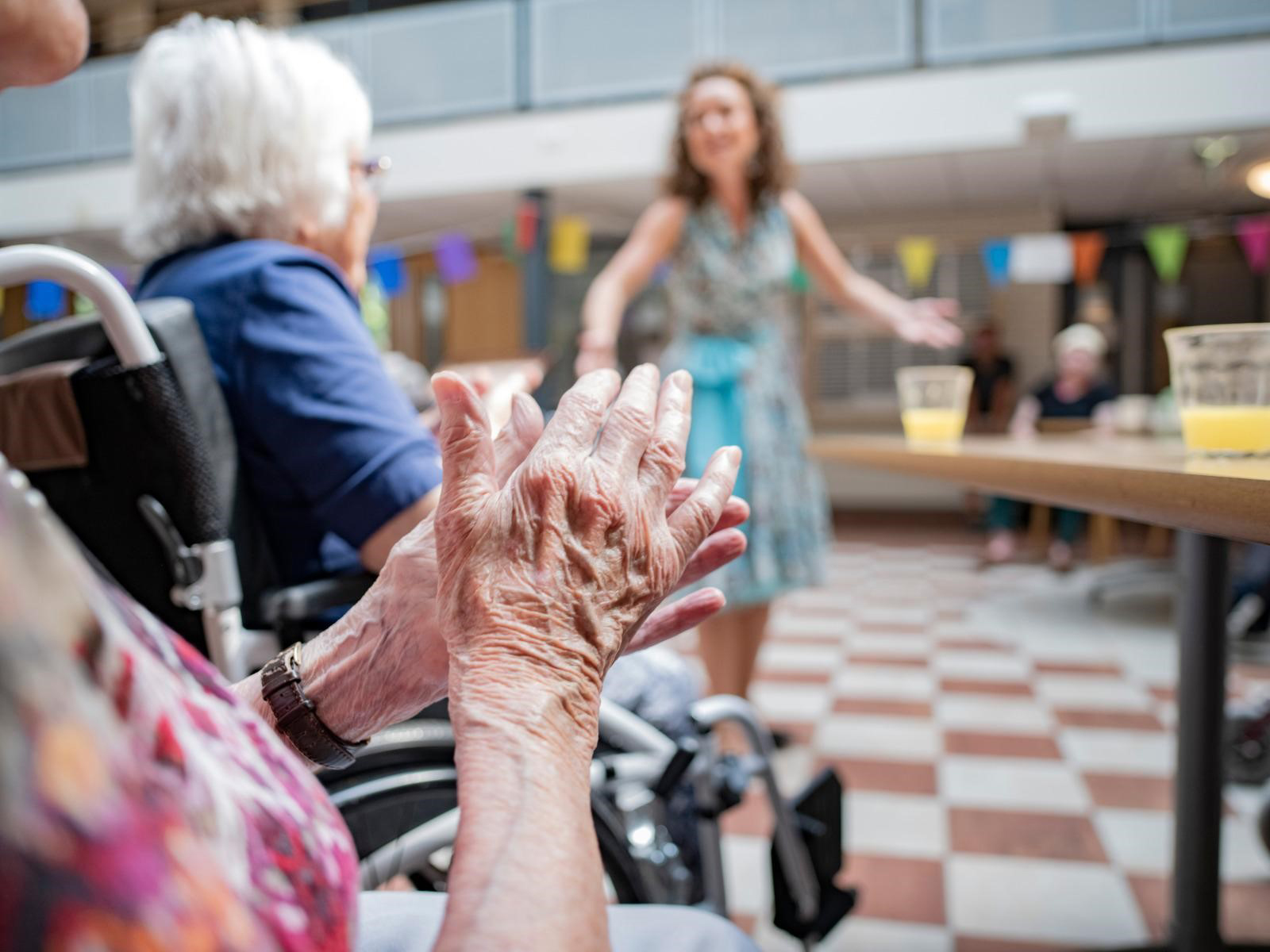 Vattenfall Foundation jubileert: al 12,5 jaar klaarstaan voor een ander
Vattenfall wil het voor medewerkers mogelijk maken om ook buiten het werk hun maatschappelijke betrokkenheid te vergroten. Om dit te ondersteunen is 12,5 jaar geleden de Vattenfall Foundation opgericht. Dat jubileum werd deze week gevierd met onder andere de vrijwilligers en belangrijke partners als Stichting Opkikker en Young Impact. Spoken word artist Derek Otte nam een bijzondere videoboodschap op over het belang van klaarstaan voor een ander.
"Als ik mensen om mij heen vertel over het doel en nut van de Foundation of over de verschillende activiteiten waar de medewerkers van Vattenfall aan hebben bijgedragen, kijken ze me vaak verbaasd aan. Vattenfall is toch een energiebedrijf? Dat is natuurlijk zo, maar als een van de eerste organisaties in Nederland werd in 2009 onder de vlag van Nuon een eigen corporate foundation opgericht. En vandaag de dag is die Foundation nog steeds een belangrijk onderdeel van ons bedrijf", vertelt Martijn Hagens, CEO Vattenfall Nederland.
Energie aanwakkeren
Lonneke Roza, Manager Community Investment bij NN Group, is sinds 2017 bestuursvoorzitter van de Vattenfall Foundation. Zij onderschrijft het belang van een dergelijke stichting: "Medewerkers leren door middel van vrijwilligerswerk over zichzelf, hoe zij zich verhouden tot anderen en tot de maatschappelijke problemen waar we in Nederland mee kampen. Daarnaast doet de bijdrage van medewerkers er echt toe; door hen kunnen kinderen die in armoede leven Sinterklaas vieren of krijgen ouderen in een tehuis net even de extra aandacht die zij verdienen. Van deze ervaringen worden medewerkers niet alleen gelukkiger, ze worden ook mentaal gezonder en voelen zich meer betrokken bij het bedrijf. Bij mij draait alles bij de Vattenfall Foundation om energie. Of het nu mensen energie brengt of energie voor een ander aanwakkert."
Niet stilgezeten
Coördinator van de Vattenfall Foundation, Ronald Smit, kijkt vooral trots terug op de inzet van de Foundation tijdens de coronapandemie. "De afgelopen 1,5 jaar konden we natuurlijk weinig met elkaar op pad. Wat ik interessant vind aan deze periode, verwoord ik vaak met de slogan: 'Je kunt meer (doen) dan je denkt!' Ik zie de impact van de activiteiten bij collega's en het is mooi om te merken dat ze telkens weer reageren op de aangepaste kalender die we maken. We hebben echt niet stilgezeten met elkaar en ondanks alles echt mooie projecten gedaan. Elke stap voorwaarts is er één, hoe klein ook."
Videoboodschap: 'klaarstaan voor een ander'
Spoken word artist Derek Otte nam een bijzondere videoboodschap op, die niet alleen betrekking heeft op het werk van de Vattenfall Foundation, maar voor iedereen relevant is: "Wie het goed heeft, hoeft niet na te denken over wie het minder troffen. Vaak hebben we niet eens écht door, hoezeer we eigenlijk boffen. Hoe zeer diezelfde wereld doen kan, voor sommigen daarbuiten. Dat we de hulp kunnen bieden die een ander kan gebruiken."
Over de Vattenfall Foundation
De thema's die centraal staan bij de Vattenfall Foundation zijn diversiteit, inclusie, integratie en educatie, in lijn met vier Sustainable Development Goals van de Verenigde Naties. De Vattenfall Foundation wil bijdragen aan meer diversiteit in de samenleving en aan inclusie van kwetsbare groepen – iedereen doet ertoe. Daarnaast ondersteunt Vattenfall Foundation initiatieven, projecten en activiteiten die tolerantie en integratie bevorderen en isolement van kwetsbare groepen voorkomen. Educatie is de sleutel tot het ontwikkelen van een gezonde samenleving. Vattenfall Foundation wil door educatie te stimuleren kwetsbare groepen sterker maken, zodat zij weer actief kunnen deelnemen aan de samenleving.