"Branschsamarbete en förutsättning för hållbar utveckling"
Vattenfall, som representerades av hållbarhetschefen Annika Ramsköld, var tillsammans med Wind Europe Association en av huvudtalarna onsdagen den 23 maj vid den årligen återkommande Brussels Sustainability Development Goals Summit.
Vid ett rådsliknande möte presenterade Vattenfall och representanter från andra branscher sina insatser för att nå relevanta hållbarhetsutvecklingsmål och hur dessa kommer att snabba på utvecklingen. 193 nationer har undertecknat FN:s hållbarhetsutvecklingsmål.
I sitt anförande betonade Annika Ramsköld behovet av att samarbeta i branschinitiativ som WindEurope, Sustainable Biomass Partnership och Bettercoal. Hon uppmanade också till mer radikala samarbeten över flera sektorer och att involvera både offentlig-privata partnerskap samt lokala intressenter och ideella organisationer.
Fossilfritt stålsamarbete är ett gott exempel
På frågan "Vad är viktigt när man samarbetar med andra för att driva hållbarhetsagendan framåt?", svarade hon så här:
– Det är genom samarbete och genom att gemensamt våga vara innovativa som vi kan höja ribban över organisatoriska gränser och bidra till hållbar utveckling. När man samarbetar måste samarbetet ha en tydlig vision och bygga på öppenhet och vilja att dela med sig och tillsammans skapa nytt, sa hon.
Ett exempel är HYBRIT – visionen att producera fossilfritt stål – där tre olika branscher, nämligen gruv-, stål- och energibranscherna, har gått ihop med stöd av Energimyndigheten. Ett annat exempel är Roadmap Sweden där fler än 80 företag och organisationer gemensamt har lagt en färdplan för hur man får en miljon elfordon att rulla på Sveriges vägar senast 2030.
Annika Ramsköld nämner några viktiga saker hon fick med sig från mötet och andra presentationer:
Samarbete behövs för att skynda på förbättring inom såväl branschsektorer som bortom dessa.
Utmaningen för ett stort antal organisationer är hur de ska omsätta hållbarhetsutvecklingsmålen i praktiken så att de faktiskt har inverkan i praktiken och inte bara används på strategisk nivå.
Att mäta hållbarhetsprestationer i ljuset av hållbarhetsutvecklingsmålen är en möjlighet till förbättring (i detta avseende kan det kommande rapporteringsformuläret Global Compact vara till hjälp).
Utnyttjar vi de möjligheter som innovation (t.ex. blockkedjor) innebär för att stödja mer hållbara affärsmodeller och öppenhet i försörjningskedjor?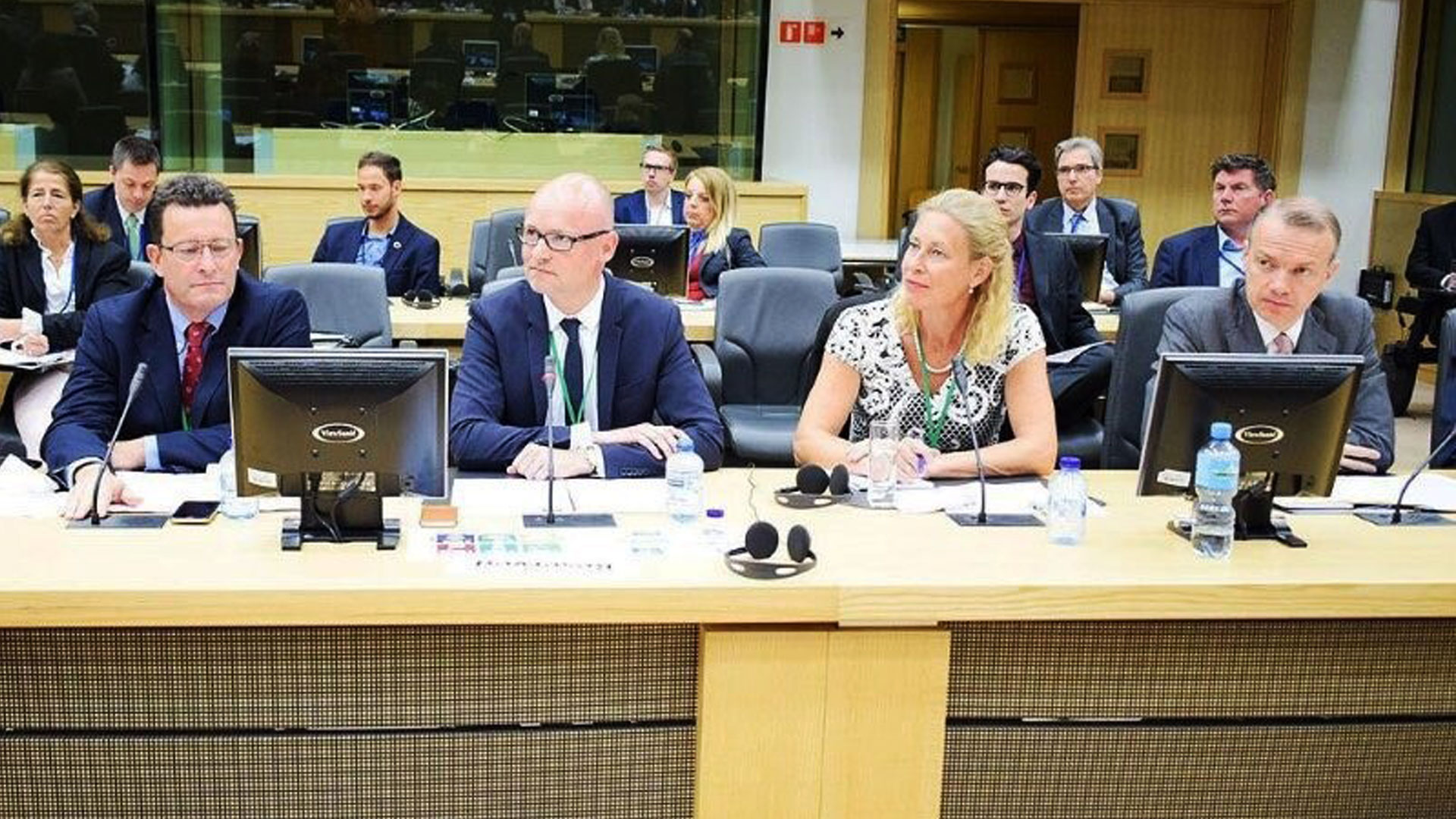 Charles-François Gaudefroy, VP Regulatory Affairs, Unilever; Arndt Scheidgen, President, A.I.S.E; Annika Ramsköld, VP Sustainability Vattenfall samt Giles Dickson, CEO WindEurope, vid Sustainability Development Goals Summit i Bryssel.
Alla måste agera
Så här sa Frans Timmermans, Europeiska kommissionens första vice ordförande: – Vi måste hantera risker och utnyttja möjligheter; det enda gemensamma verktyget är hållbarhetsutvecklingsmålen. Vi kan alla bry oss och dela med oss, och borde också göra det.
Seb Dance, EU-parlamentariker för Storbritannien, betonade att alla behöver agera, varje avdelning på varje nivå, både som individer och som representanter för företagen och organisationerna.
Lise Kingo, VD för FN:s Global Compact, drog slutsatsen att hållbarhetsutvecklingsmålen har skapat energi, rörelse och drivkraft där företag verkligen har intensifierat sina ansträngningar, men inom två områden ligger man långt efter: klimat och jämlikhet.
I ljuset av toppmötet publicerade PwC sin forskning rörande "Maturity and integration of sustainability in European sector associations" (Mognad och integrering vad gäller hållbarhet i europeiska branschorganisationer).
– Det var intressant att se antalet företag som hade antagit hållbarhetsutvecklingsmålen. Det är tydligt att de blivit den gemensamma plattformen för innovation och förändring, säger Annika Ramsköld.
Läs PWC:s rapport:
Maturity and integration of sustainability in European sector associations
---
Fakta
Hållbarhetsutvecklingsmålen är en samling med 17 globala mål som ställts upp av FN. De täcker in ett brett spektrum av sociala och ekonomiska utvecklingsfrågor. De inbegriper fattigdom, hunger, hälsa, utbildning, klimatförändring, jämställdhet, vatten, sanitet, energi, urbanisering, miljö och social rättvisa.
Annika Ramsköld, Vattenfalls hållbarhetschef, var huvudtalare vid Sustainable Development Goal Summit i Bryssel.