Omkring 150 vattenfallare över hela Sverige deltog när den första loppet till förmån för mångfald och HBTQ-frågor genomfördes torsdagen den 13 juni.
För första gången anordnade Vattenfalls IF tillsammans med Vattenfalls mångfalds och inkluderingssarbete "Walk and Run with Pride." Initiativet gjordes med syftet att ge samtliga anställda i landet möjlighet att stå upp för allas lika värde.
Walk and Run with Pride är en del av Vattenfalls arbete för mångfald och inkludering och genomförs med hjälp av Vattenfalls IF.
Sex lokala VIF klubbar på lika många orter deltog i arrangemanget: Motala, Ringhals, Sundsvall, Umeå, Luleå och Solna/Arenastaden.
Sammanlagt löpte och gick nära 150 deltagare på orterna de rundor som föreningarna snitslat. Flest deltagare hade Solna där 90-tal personer deltog, varav runt 60 sprang.
– Det känns jättebra att Vattenfalls IF kan vara med i ett arrangemang som är både roligt, engagerande och viktigt. Frågor om likaberättigande och mångfald ligger ju helt i linje med vår verksamhet där alla är välkomna oberoende av ålder, kön, läggning eller ursprung, säger Mikael Hellsvik, ordförande i Vattenfalls IF, som själv deltog i loppet i Solna där det gick runt den närbelägna Råstasjön.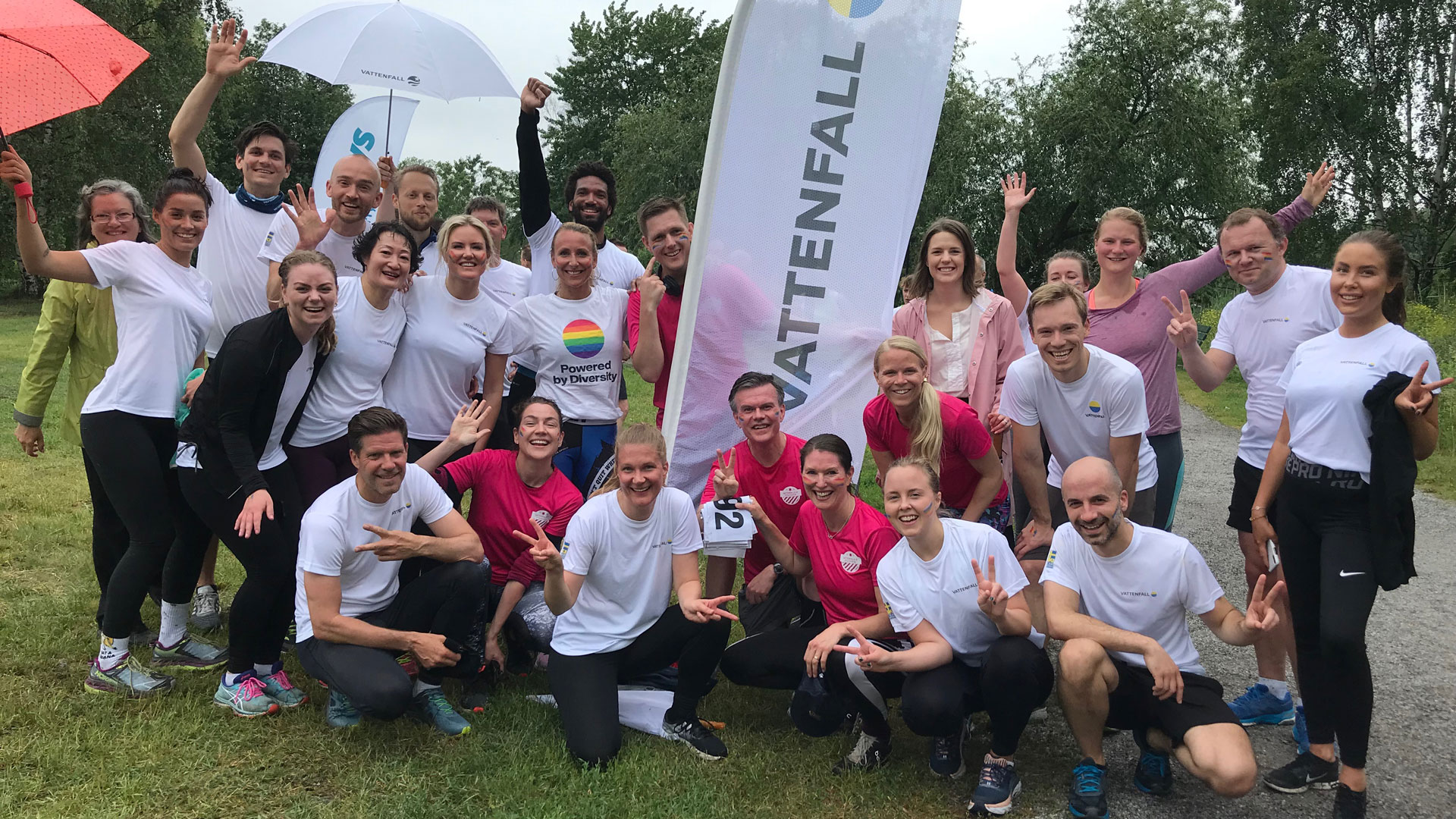 I Solna deltog totalt upp mot 90 personer i Run for Pride varav ett 60-tal sprang 5-kilometersslingan runt Råstasjön.
I Solna genomfördes Run with Pride som en tävling. Även SEB och Telia, som också har stora kontor i Arenastaden deltog, men Vattenfall var det bäst representerade av bolagen.
Ett rejält oväder som drog över delar av landet på förmiddagen bidrog till ett visst bortfall, bland annat i Umeå.
– Många kände att de inte hade tid att delta i promenaden eftersom att det var högt inflöde av samtal på telefon på Kundservice i samband med ovädret. Det medförde förkortade luncher och då var sträckan lite för lång, säger Emilie Sandström i Umeå.
Ändå deltog 17 personer i promenaden i Umeå medan ytterligare ett 50-tal kollegor kom förbi VIF-montern och pratade och tog del av informationsmaterialet om Vattenfalls mångfaldsarbete som fanns där.
I Ringhals deltog ett tiotal personer.
– Vi var ute med informationen lite för sent tyvärr. Till nästa år ska vi vara ute mer i god tid och uppmärksamma det ytterligare säger Nermin Hidic, en av de sammanhållande för aktiviteten i Ringhals.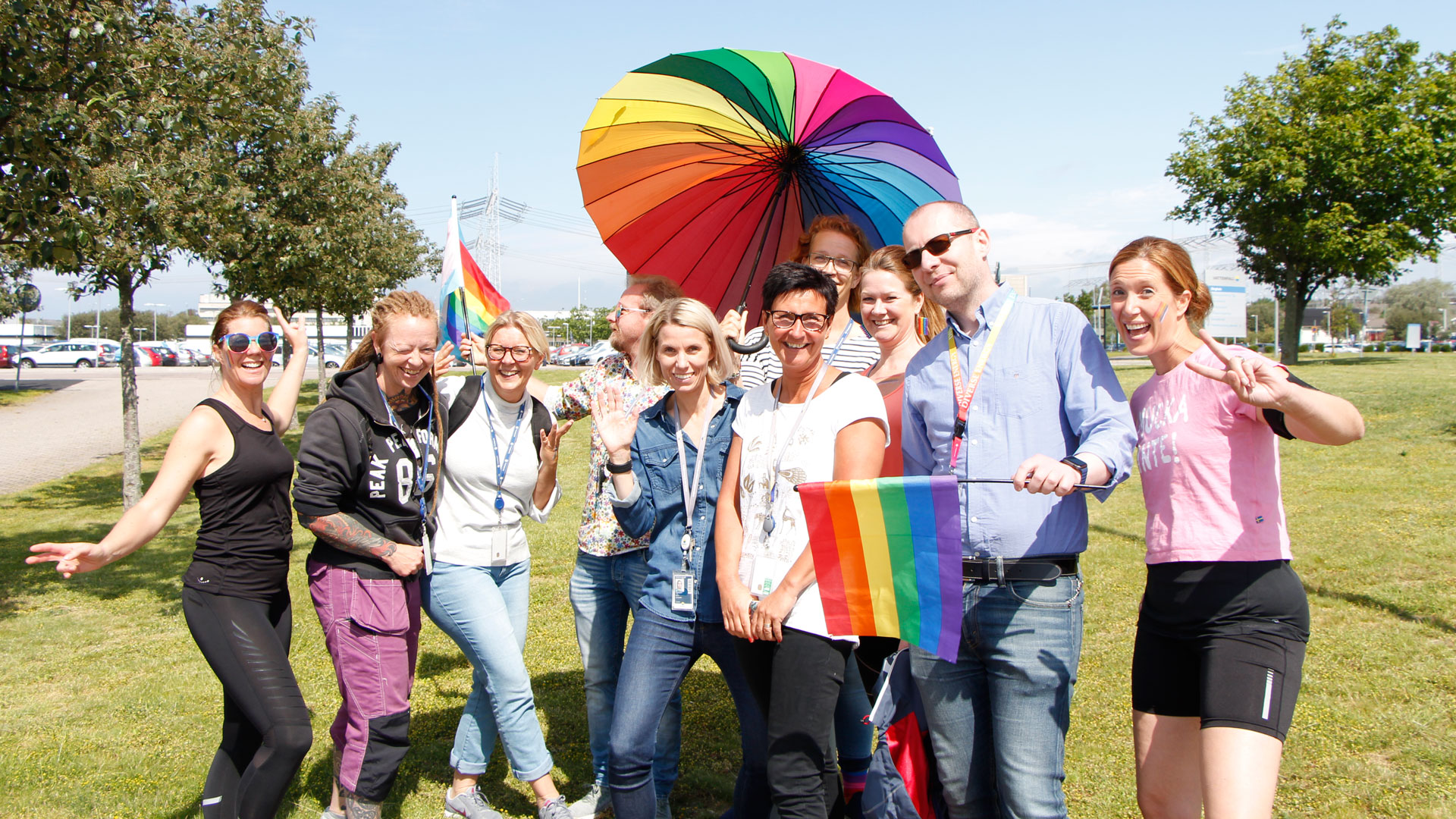 De som deltog i promenaden i Ringhals fick en härlig promenad i solen och dessutom en del tankeväckande frågor med sig att diskutera vid fikaborden.
Vattenfall har ett gediget engagemang i frågor om mångfald och inkludering, där HBTQ-frågor ingår.
– När det gäller arrangemang med koppling till HBTQ har vi under flera år deltagit i Prideparaden i Stockholm. I år ville vi att aktiviteterna även skulle märkas på andra håll i landet, där det kanske är ännu viktigare att det syns att Vattenfall tar ställning och menar allvar i de här frågorna, säger Frida Marty Wallgren som är ansvarig Process Manager för arbetet med mångfald och inkludering inom Vattenfallkoncernen.
– På det hela taget är jag väldigt nöjd och glad över resultatet av vår första Walk and Run With Pride. Vi hoppades ju att kunna öka engagemanget kring mångfald och HBTQ-frågor och vi ser redan att vi har ett större engagemang räknat i antalet deltagare i år än tidigare. Ändå kunde till exempel inte Forsmark delta på grund av planerade arbeten. Det är en av de saker vi kan lära oss av till kommande år, säger hon.
Läs om Vattenfalls arbete för mångfald och inklusion
Kraftverkschefen Torbjörn Wahlborg blir Vattenfalls högsta ansvarige för mångfald och inklusion