Ourack Wind Farm
Vattenfall is exploring the potential of Ourack wind energy project, 6km north of Grantown-on-Spey, comprising 18 wind turbines, each with a capacity of around 6MW and a blade tip height of 180m.
Vattenfall is committed to working from the earliest stage with local communities and stakeholders to consider the issues and opportunities that a wind energy project might offer in the area - from the community benefit fund to community ownership and any other ideas you may have about the benefits and opportunities that would interest you.
In March 2021 we held an initial online exhibition and consultation to introduce the project and gather people's initial feedback on the proposal.
The online exhibition included a range of one-to-one calls held by the project team to answer people's questions, and we received a good level of response to the consultation. This initial feedback helped us to identify potential issues, concerns, and opportunities early in the project - which we took into consideration as the design progressed. We are grateful to everyone who took the time to engage with us.
We are looking forward to presenting an updated exhibition in Spring 2022 to show the progress that has been made over the year.
Community Benefit Survey
After discussion with local community groups a number of key issues have been identified that could be helpful in guiding any community benefit programme towards addressing local priorities.
A community benefit survey was carried out across January and February 2022 to consult on the local priorities identified. Feedback on the key issues and objectives for funding was very positive, with some additional issues suggested for consideration.
There was support for a funding-model to include some upfront funding in the early stages of the project and we look forward to further discussions with the local communities on these options.
Download the scoping report
The scoping report can be viewed and downloaded here.
Feedback
A number of documents have been prepared and published as part of the process, among these a feedback report
Why Wind Power?
Scotland has set its goal to reach net zero by 2045, and renewable energy projects such as Ourack Wind Farm will provide the platform for the decarbonisation of homes, businesses and transport needed to reach this ambition. Onshore wind can make a significant contribution, and we can deploy more powerful turbines than ever before.
Onshore wind is now the cheapest way to generate electricity of any kind. Across the UK, there is already around 14GW of onshore wind built and it is now one of the cornerstones of the UK electricity mix. It is estimated that by 2030, 30GW of onshore and offshore wind will be required to meet our climate targets at the lowest cost to the consumer.
Onshore wind also brings benefits to host communities and the broader economy. We will offer a community investment package in line with prevailing Scottish Government guidance for local communities to invest in the priorities which matter to them. Across the economy, there are many opportunities for Scottish businesses to get involved ranging from environmental studies and civil engineering through to site security and catering.
Vattenfall has a strong commitment to working with the local supply chain and we aim to procure 60% of components and labour for our projects from within Scotland. If you think your business could supply Ourack Wind Farm or any of our other projects, please let us know.
See also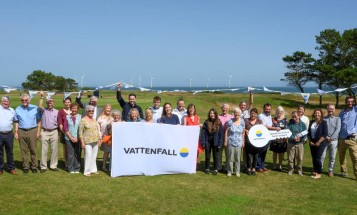 We invest over £2.5mn into the local communities hosting our wind farm projects each year.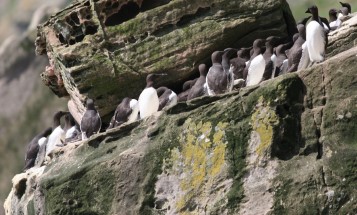 At our wind farms a year round programme of environmental monitoring takes place.