Vattenfall in South West Scotland
South Kyle II Wind Farm
South Kyle II is a proposed onshore wind development of up to 17 turbines with a combined capacity of up to 119MW.
Proposals are at an early stage, with a detailed scoping report submitted to the Scottish Government in February 2022 stating our intention to conduct an environmental impact assessment.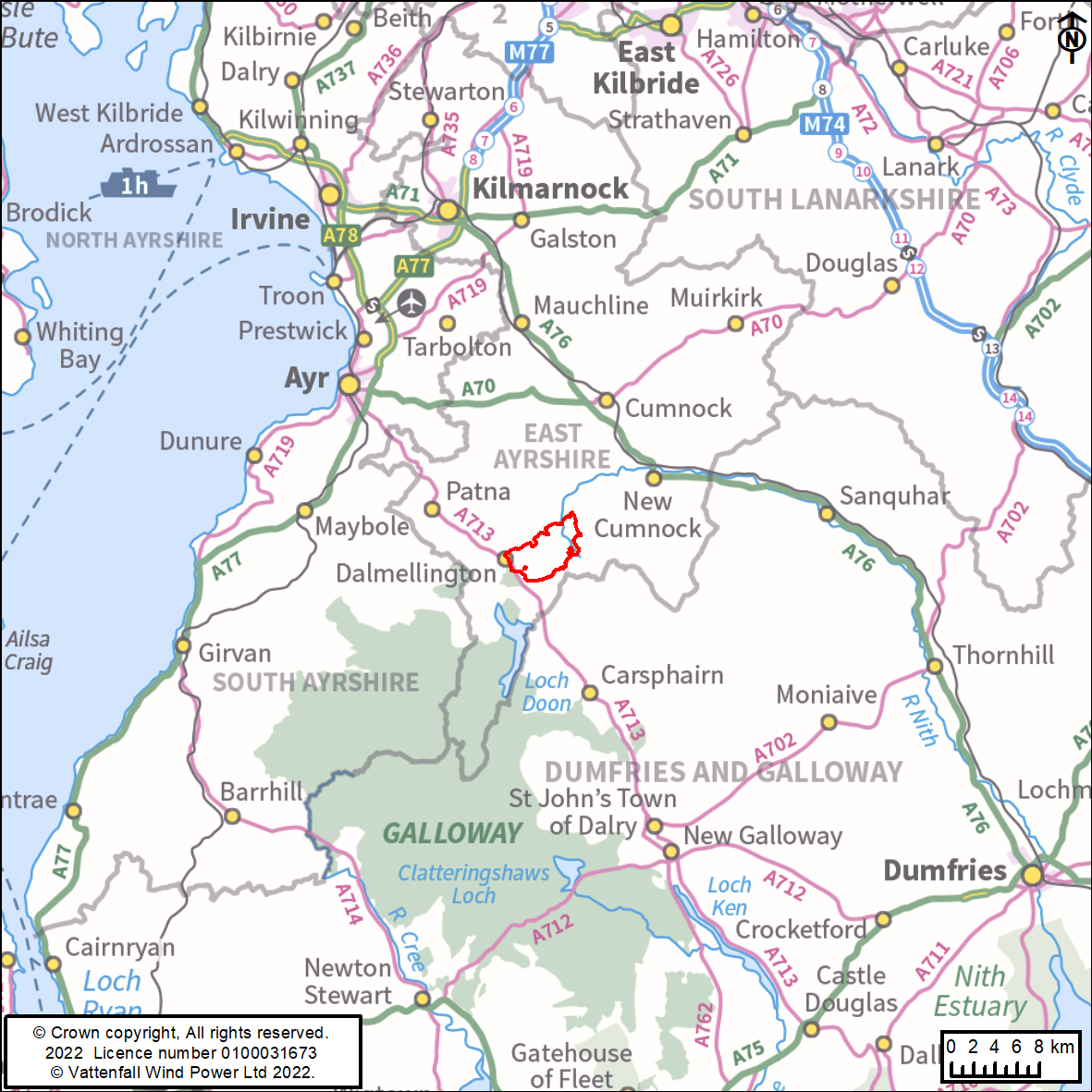 Wind farm location map
The red line shows the extent of the site boundary, within which turbine locations will be carefully and sensitively considered.
Following Vattenfall's multi-million pound investment in South Kyle Wind Farm, and together with our proposals for Whiteneuk and Quantans Hill. The proposed South Kyle II wind farm reflects Vattenfall's continued investment in and commitment to bringing socio-economic opportunities to South West Scotland.
In exploring the potential of South Kyle II, Vattenfall is keen to hear from the local community. We already have a good understanding of the local area given our long-term involvement, investment and commitment with South Kyle Wind Farm. This understanding and knowledge will help us design a scheme that respects local constraints and minimises impacts whilst also creating opportunities and benefits through community investment, skills development, jobs and employment.
About our proposed South Kyle II wind farm
The scoping report can be viewed below, which includes details of the initial proposals. These plans will now go on to be shaped by the outcome of the Environmental Impact Assessment and through engagement with key stakeholders including local communities.
The site lies to the east of Dalmellington, in an area of upland commercial forestry located in a landscape characterised as Southern Uplands with Forestry. It has has long been identified as suitable area for wind power generation. Within this site boundary, Vattenfall seeks to develop a scheme designed to benefit fossil-free energy generation, community investment, environmental and socio-economic opportunities.
In short, Vattenfall proposes up to 17 turbines with a maximum tip height of up to 220m in height. This would enable our proposed South Kyle II wind farm to generate enough energy to power approximately 60,000* homes and offset up to 145,000 tonnes of carbon.
This initial proposal represents the wind farm at its greatest possible extent in terms of both the number and the size of the turbines proposed. The design will evolve over time as we undertake environmental surveys, consider any constraints to development and reflect on stakeholder feedback. We will keep the local community informed on developments.
*https://www.renewableuk.com/page/UKWEDExplained
Why wind power?
Scotland has set its goal to reach net zero by 2045, and renewable energy projects such as this will provide the platform for the decarbonisation of homes, businesses and transport needed to reach this ambition. Onshore wind can make a significant contribution, and we can deploy more powerful turbines than ever before.
Onshore wind is now a low cost way to generate electricity . Across the UK, there is already around 14GW of onshore wind built and it is now one of the cornerstones of the UK energy mix. It is estimated that by 2030, 30GW of onshore wind generated electricity will be required to meet our climate targets at the lowest cost to the consumer.
Onshore wind also brings benefits to host communities and the broader economy. We will offer a community investment packages in line with Scottish Government guidance for local communities to invest in the priorities which matter to them. Across the economy, there are many opportunities for Scottish businesses to get involved. Vattenfall estimates that 70% of our onshore wind expenditure has been spent with British businesses, ranging from environmental studies and civil engineering through to site security and catering. If you think your business could supply these projects, please let us know.
About Vattenfall
Vattenfall is one of Europe's leading energy suppliers with 20,000 employees. Owned by the Swedish state, for over a century we have worked to electrify society. In the UK, we have been developing projects since 2008, investing more than £3.5billion in the UK enough wind to power 700,000 homes.
Today, Vattenfall is driven by the ambition to enable fossil free living within a generation. Our biggest UK wind farm will be at South Kyle, currently under construction. This is a multi-million pound investment, bringing significant economic opportunity to South West Scotland, and heralding a major community investment.
Besides our determination to drive economic opportunity to the region, Vattenfall is committed to enhancing and protecting the natural environment. This will be at the heart of our considerations when exploring South Kyle II Wind Farm's potential.
What's next?
Following the submission of our proposed South Kyle II wind farm's scoping report, a programme of engagement with the relevant authorities and statutory consultees will commence. This will include community organisations and representatives.
Meanwhile, environmental consultants Natural Power will commence work on a detailed Environmental Impact Assessment.
Get Involved
Over the coming months, Vattenfall will be discussing our proposals for South Kyle II looking for feedback from the local community. We value feedback throughout the design process and the views and input from local people will help us the design the best wind farm we can, one which works for the community.
Opportunities to discuss the plans will be scheduled for later this year.
If you'd like to stay in touch with the project as it develops and/or provide initial feedback, please answer a few questions in this short survey. It should take no more than 5 minutes to complete.
You can also email the development team directly here.
We look forward to hearing from you.