Vattenfall in South West Scotland
South Kyle Wind Farm
South Kyle is a consented onshore wind farm consisting of 50 wind turbines and associated infrastructure. The project is located 5km to the east of Dalmellington, lying within both East Ayrshire and Dumfries and Galloway.
Construction commenced in late 2020 with the focus on felling, civil engineering and infrastructure ahead of turbine installation in 2022. Read more about the many businesses from across the local area, region and throughout Scotland who are helping us to build South Kyle Wind Farm here.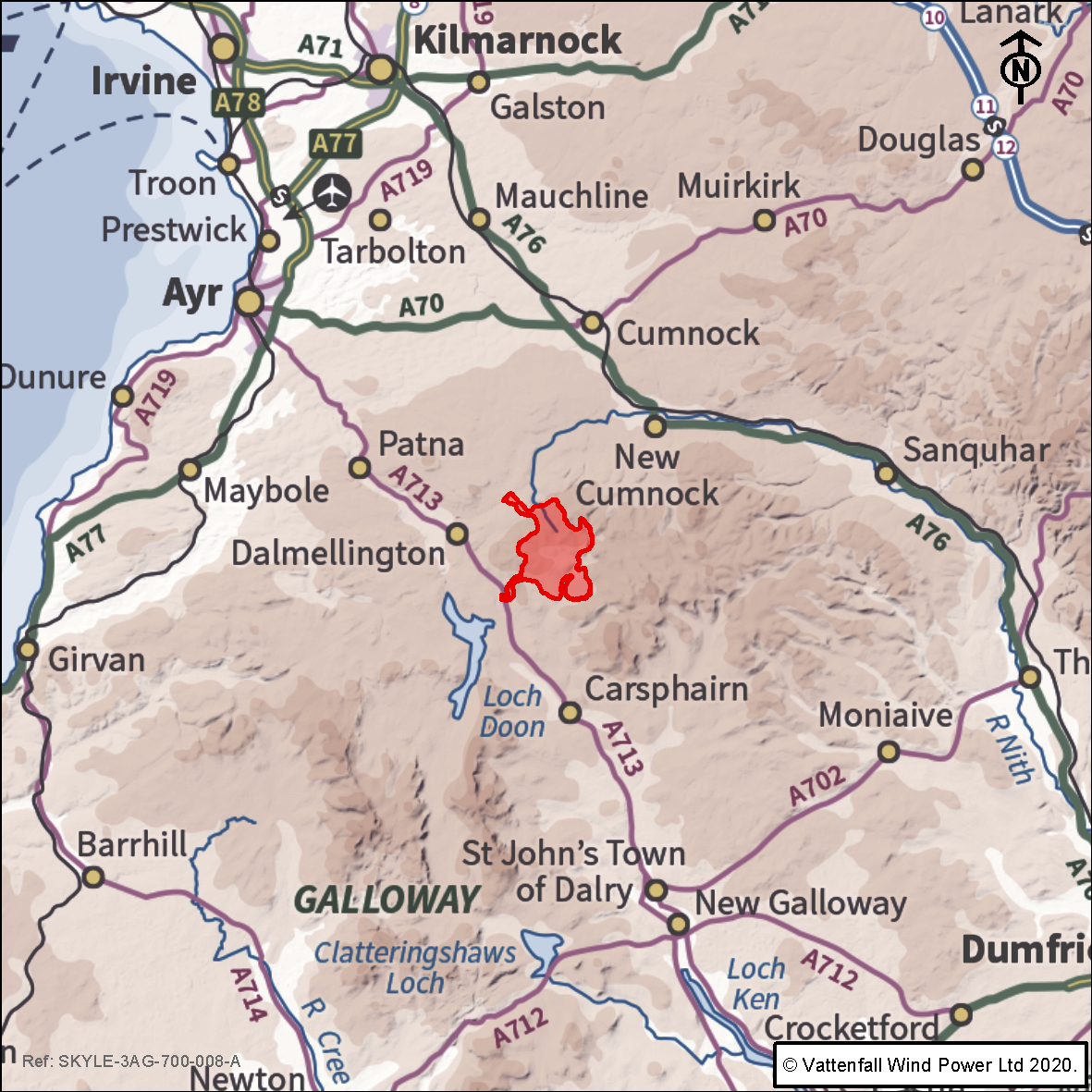 Wind farm location map
This red line boundary map shows the location of the wind farm
Community Benefits: Join the Discussion
Once constructed, South Kyle Wind Farm will generate a community investment fund worth an estimated £38million over the lifetime of the wind farm.
Ahead of that, Vattenfall is working with the local communities of Carsphairn, Dalmellington, Patna and New Cumnock to develop a bespoke fund arrangement reflecting local priorities and aspirations, a process which will be facilitated by our partners Foundation Scotland.
The process so far
To build the foundations of the South Kyle Wind Farm Community Investment Fund, we must first understand what local people want the Fund to achieve.
Following initial research, an online poll of local people was conducted in late 2020 (you can read the results here) and this, along with looking at existing local community action plans, helped identify some key themes and aspirations. We then hosted the first 'Inform and Inspire' workshops - opportunities for local people to find out more about the Fund, the process towards creating the Fund arrangements, and bring their ideas and questions to the discussion.
Some of the initial questions local people have asked us are answered in an FAQs document here.
Groups can also submit ideas for the through an Expression of Interest Form here. Submitting the form doesn't guarantee funding, but it will help inform overall plans for the Fund.
Exploring key themes
This spring and summer, Vattenfall is inviting the local community to join a series of discussions exploring some of the key themes already identified. These online sessions will also be an opportunity to look at inspirational examples of projects from elsewhere in Scotland where community benefit has made a key contribution and spark some conversations about what the South Kyle Fund could help achieve.
Each session is open to anyone who lives, works or is interested in the futures of Carsphairn, Dalmellington, New Cumnock and Patna. They will be held online via Zoom and hosted by Foundation Scotland, with sessions at 11am and repeated at 7pm.
Please register for any or all of these sessions by clicking the links below. You can also download our events poster here.
Tourism and Heritage – 5/5/21 and 02/06/21
How can the South Kyle Fund help communities make the most of the abundant physical and natural assets of the local area? Over two different sessions, hear from local representatives from Highland, the Borders and Dumfries & Galloway who have used community benefits to boost tourism and heritage, and discuss opportunities for South Kyle.
Session 1: May 5, 2021 at 11am
Session 2: June 2, 2021 at 11am
Session 2: June 2, 2021 at 7pm
Education and Training – 19/5/21
What education and training opportunities exist and how might the South Kyle Fund build on these? For example, community benefit funds have been used to provide tailored support packages to individuals keen to develop their skills and employability and to support local businesses keen to provide apprenticeship opportunities. Hear how some communities are achieving this in Falkirk and Highland.
Tackling Housing Challenges – 26/5/21
Could the South Kyle Fund help your communities take the lead in affordable housing? Investment in affordable housing is key to regenerating and sustaining communities, and we'll look at examples from elsewhere in Scotland who are using community funding to create affordable housing suited to their local needs.
Greening Communities – 9/6/21
How can South Kyle communities adapt for climate change? Discuss your ideas for reducing impact, and mitigating the effects. Often it's at the local level that we have the power to do something positive. We'll hear from a few communities that are doing their bit for people and planet.
Sport and Leisure, health and wellbeing – 23/6/21
How might the Fund improve local opportunities for sports and leisure, enhance well being, and build community cohesion? What existing ideas could the Fund make a reality, and what new ideas could be considered? Meet community representatives from South Ayrshire and Falkirk who have harnessed community benefit funding to boost wellbeing.
If you have any questions about these sessions or our work to develop the South Kyle Wind Farm Community Investment Fund, please contact suzy@foundationscotland.org.uk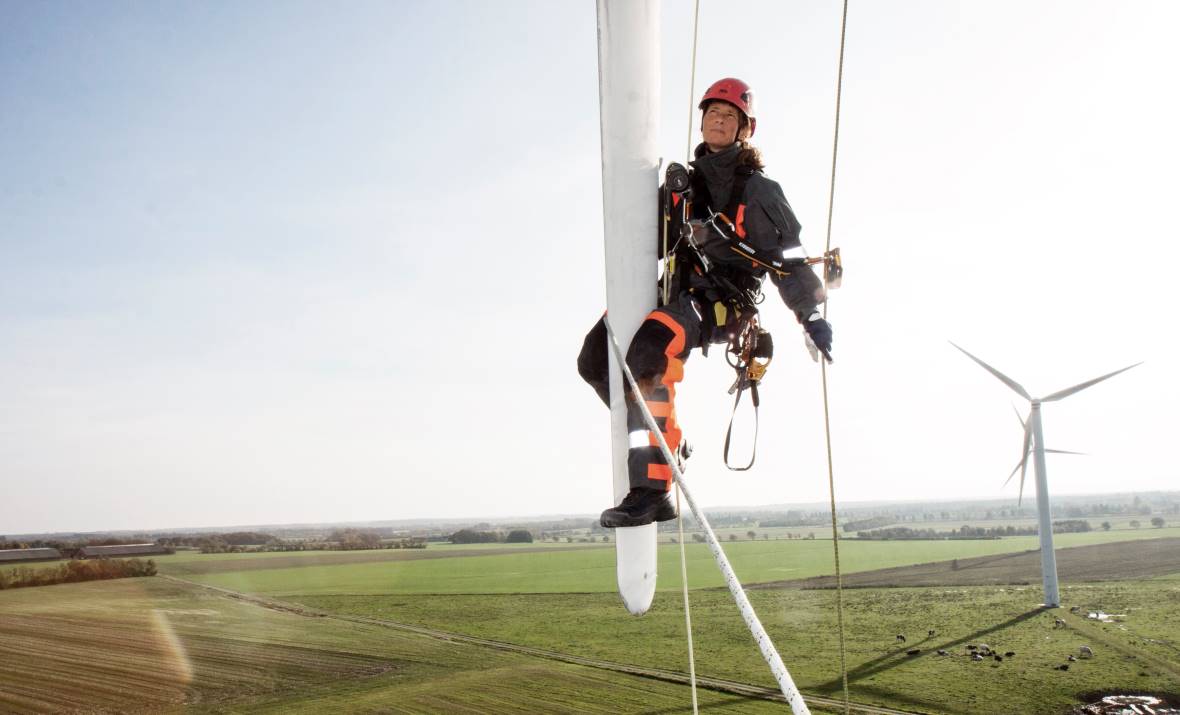 Job opportunities at South Kyle Wind Farm
We are working closely with all our suppliers to identify and publicise their job vacancies on site. New job opportunities at South Kyle will be advertised via the link below. If there are no vacancies the link will show a page which says 'no jobs found'. You can sign up for regular email alerts to notify you when new opportunities become available. You can also send your CV to southkyle.windfarm@vattenfall.com and we will forward it on to our suppliers.