Vattenfall in South West Scotland
Quantans Hill Wind Farm Proposal
Around 2km north east of Carsphairn, Quantans Hill is a proposed onshore wind development of up to 21 turbines and 126MW. Proposals are at an early stage and Vattenfall is keen to seek feedback on the project design before we submit the proposal to planning.
About the Proposal
Following Vattenfall's multi-million pound investment in South Kyle Wind Farm, and together with our proposals for Whiteneuk, Quantans Hill reflects Vattenfall's continued investment in and commitment to bringing socio-economic opportunities to South West Scotland.
The site is on grazing farmland approximately 2km north east of the village of Carsphairn in north Dumfries and Galloway. It has previously been identified as highly suitable for wind power generation and subject to an earlier proposal by another developer. Vattenfall has carefully studied these earlier plans, learned from them and developed a scheme designed to offer maximum benefit in terms of fossil-free energy generation, community investment, environmental impact and socio-economic opportunities.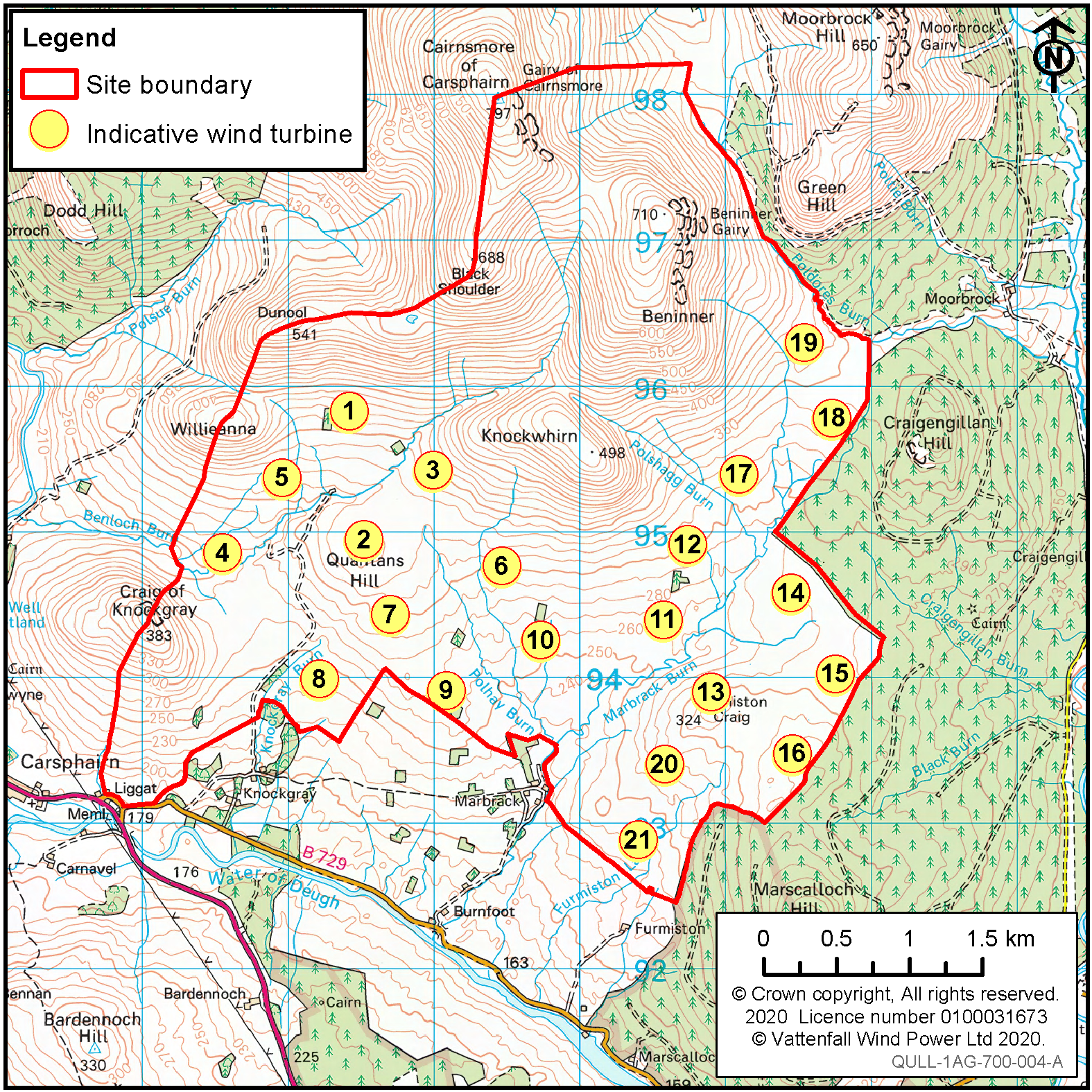 Indicative wind turbine layout
The map shows the area we are looking at developing.
Vattenfall's plans for Quantans Hill consist of 21 turbines, each up to a height of 200-250m to tip, plus battery storage and associated infrastructure. Please note that this current iteration reflects our plans at their greatest possible extent.
Find out more: virtual village hall, online discussions and FAQs
Virtual Village Hall: This tool has been created to provide most of the information you might expect to find at a community event or exhibition including information boards and feedback opportunities, as well as virtual drive-throughs and other interactive features. You will also find information on Vattenfall's approach to protecting and enhancing natural habitats; creating work, skills and business opportunities for local people, and delivering community benefits packages which maximise impact and reflect local needs and aspirations. To visit, please click here.
Online Discussions: Over the winter of 2020/21, we hosted online sessions for local people to learn more about our initial proposals and to put their questions to our team. To watch the videos of the sessions, please click below:
Quantans Hill: discussing Vattenfall's proposals for a new wind farm (16/12/20)
FAQs: Please click here to download our latest FAQs document related to the wind farm proposal.
Provide Feedback and Get Involved
Feedback on our proposals is very welcome and will help us design the best wind farm we can. For everyone's health and wellbeing, we have postponed holding local events and meetings, and whilst we remain hopeful that 2021 may bring some easing of Covid restrictions, we remain committed to providing opportunities for local people to ask questions, discuss the plans and have opportunities to inform the project designs.
To provide feedback you can:
Complete our feedback form at the bottom of this page.
Write to us at: Vattenfall Wind Power, St Andrew's House, Haugh Lane, Hexham, NE46 3QQ.
Email: quantanshill.windfarm@vattenfall.com
Download the scoping report
Why wind power?
Scotland has set its goal to reach net zero by 2045, and renewable energy projects such as this will provide the platform for the decarbonisation of homes, businesses and transport needed to reach this ambition. Onshore wind can make a significant contribution, and we can deploy more powerful turbines than ever before.
Onshore wind is now the cheapest way to generate electricity of any kind. Across the UK, there is already around 14GW of onshore wind built and it is now one of the cornerstones of the UK electricity mix. It is estimated that by 2030, 30GW of onshore wind will be required to meet our climate targets at the lowest cost to the consumer.
Onshore wind also brings benefits to host communities and the broader economy. We will offer a community investment package in line with Scottish Government guidance for local communities to invest in the priorities which matter to them. Across the economy, there are many opportunities for Scottish businesses to get involved. Vattenfall estimates that 70% of our onshore wind expenditure has been spent with British businesses, ranging from environmental studies and civil engineering through to site security and catering. If you think your business could supply these projects, please let us know.
About Vattenfall
Vattenfall is one of Europe's leading energy suppliers with 20,000 employees. Owned by the Swedish state, for over a century we have worked to electrify society. In the UK, we have been developing projects since 2008, investing more than £3.5billion in enough wind to power 700,000 homes.
Today, Vattenfall is driven by the ambition to enable fossil free living within a generation. Our biggest UK wind farm will be at South Kyle, to the north of Dumfries and Galloway. Construction of this multi-million pound investment will commence later this year, bringing significant economic opportunity to South West Scotland, and heralding a major community investment.
Besides our determination to drive economic opportunity for the region, Vattenfall is committed to enhancing and protecting the natural environment. This will be at the heart of our considerations when exploring Quantans Hill Wind Farm's potential.
What's next?
Following the submission of Quantans Hill's scoping report, a programme of engagement with the relevant authorities will commence. This will include community organisations and representatives.
Meanwhile, environmental consultants Natural Power will commence work on a detailed Environmental Impact Assessment.
Get Involved
From 26 June to 31 August 2020 Vattenfall ran an early online feedback survey. Our key findings are available in our consultation report.
We very much welcome your feedback and over the coming months, Vattenfall will be discussing our proposals with local communities. Due to COVID-19 these will be held online. To be kept informed please sign up below.
You can also email the development team directly.
See also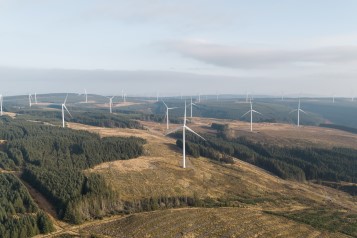 Whiteneuk Wind Farm proposal is an onshore wind farm project in South West Scotland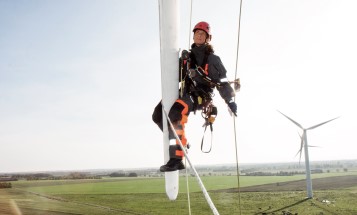 A regional approach focussed on communities, opportunities and a fossil fuel-free future.