Vattenfall og minister underskriver koncessionsaftalerne for Kriegers Flak, Vesterhav Nord og Vesterhav Syd.
I dag har Vattenfall og den danske energi-, forsynings- og klimaminister Lars Chr. Lilleholt underskrevet koncessionsaftalerne for havmølleparken Kriegers Flak og de kystnære parker Vesterhav Nord og Vesterhav Syd.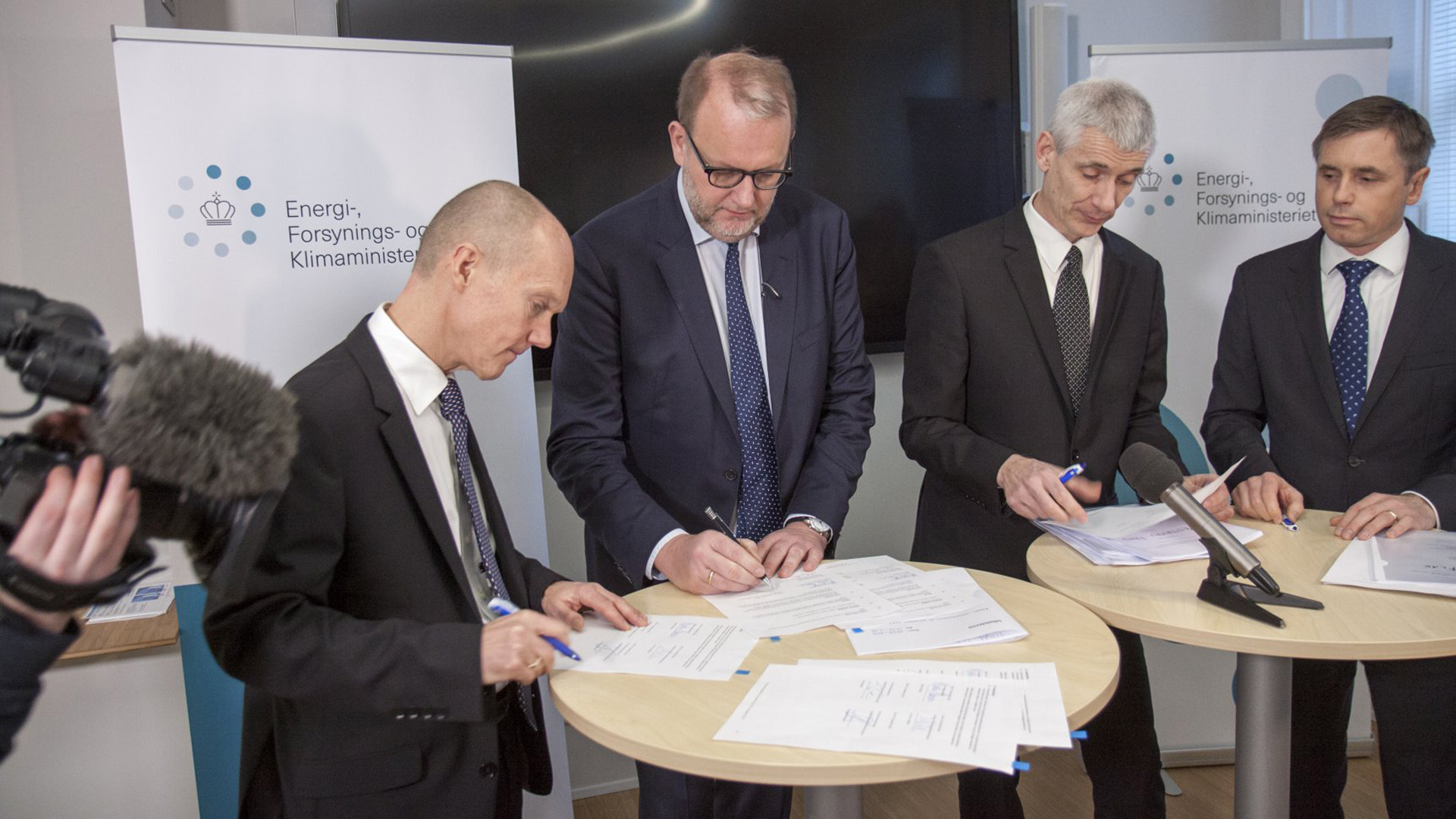 Fra venstre: Country Manager Ole Bigum Nielsen, Energi-, forsynings- og klimaminister Lars Chr. Lilleholt, Project Director for Vesterhav Nord og Vesterhav Syd Per Stenholt og Project Director for Kriegers Flak Peter Wesslau.
Det var en glædens dag for Vattenfalls repræsentanter, at der nu endelig sættes det formelle punktum, og at projekterne kan komme 'rigtigt' i gang. Underskrifterne sættes efter at Folketinget den 19. december enstemmigt vedtog den lov, som fastsætter pristillæggene for Kriegers Flak, Vesterhav Nord og Vesterhav Syd.
"I dag sætter vi et dejligt punktum på et travlt, men virkelig godt år for Vattenfall. Vi er glade for at sikre danskerne endnu mere bæredygtig strøm fremover," siger Ole Bigum Nielsen, Vattenfalls danske Country Manager. Han fortsætter:
"Vi er stolte over at have vundet de seneste tre danske udbud, og disse projekter giver os virkelig mulighed for at udvikle synergier og udnytte stordriftsfordele i projektudvikling, men også i samarbejde med leverandører og partnere. Vattenfall står med investeringer i størrelsesordenen 25 mia. med en enestående mulighed for at opbygge ny viden og udtænke nye, smartere måder at arbejde på, når man har så stor sammenhængende produktion."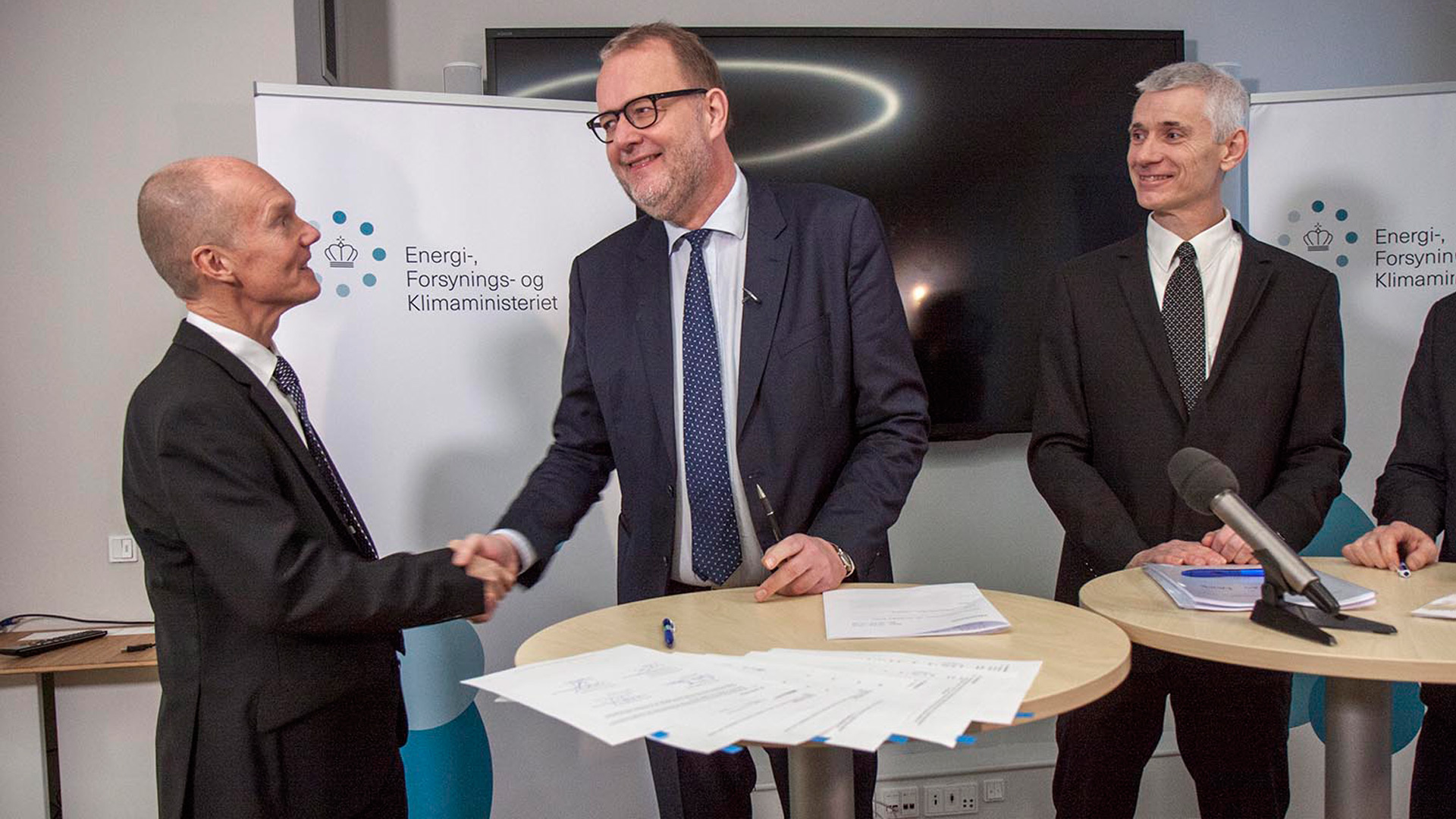 Ministeren lykønsker Vattenfall med aftalen.
I forbindelse med underskrivelsen af koncessionsaftalerne afholdt ministeren et velbesøgt pressemøde, og der var flere spørgsmål til både ministeren og Vattenfall. Lars Chr. Lilleholt bød alle velkommen:
"Tillykke til Vattenfall med at have vundet Danmarks største vindmølleordre. Jeg ser frem til at underskrive aftalerne i dag, som i den grad er historiske i forhold til udbygningen med vind på havet i Danmark."
I pressemeddelelsen udsendt af ministeriet i dag, udtaler ministeren:
"Det er en god dag i dag, hvor Danmark cementerer sin placering som et globalt udstillingsvindue og foregangsland. Det er et godt skridt på vejen mod regeringens mål om 50 pct. vedvarende energi i 2030. Det er godt nyt for den grønne omstilling, sådan som priserne er raslet ned bare i år".
Vattenfall har vundet de seneste tre udbud i Danmark og har nu positioneret sig som den førende vindproducent i Danmark.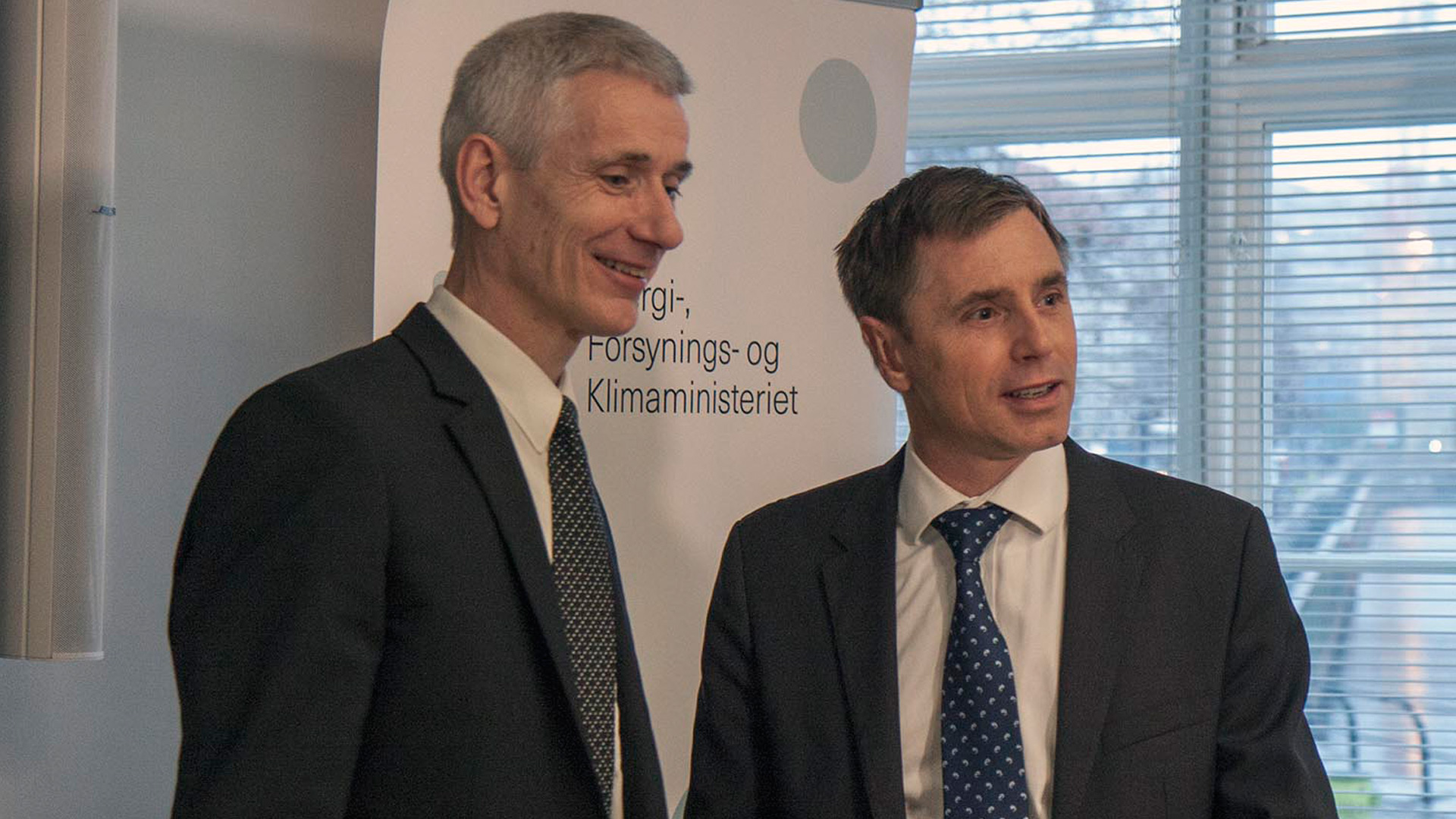 Per Stenholt og Peter Wesslau glæder sig over, at aftalerne er i hus
---
Fakta
Kriegers Flak bliver Danmarks største havmøllepark med sine 600 MW. Buddet på Kriegers Flak i Østersøen vandt Vattenfall til en sensationelt lav pris på i alt 37,2 øre/kWh, som stadig er verdens laveste for havvindmøller. Den kommer til at forsyne 600.000 danske husstande med vedvarende energi. Vattenfalls investering i Kriegers Flak forventes at blive 8,1-9,9 mia. danske kroner.
Vesterhav Nord og Vesterhav Syd får en samlet kapacitet på 350 MW. Vattenfall vandt med en budpris på 47,5 øre/kWh. De to vindmølleparker vil kunne levere vedvarende energi til 375.000 danske husstande. Vattenfalls investering i Vesterhav Nord og Vesterhav Syd forventes at blive omkring 5,5 mia. danske kroner.
Læs mere:
Vattenfall vinder udbud om de kystnære vindmøller
Grønt lys til de kystnære møller i Danmark
Vattenfall vinder udbudsrunden om Kriegers Flak