Vores strategi
Vattenfalls mål er at gøre det muligt at leve fossilfrit inden for én generation.
Vattenfall har defineret en strategi, hvor formålet er at være drivkraft for en mere klimaintelligent levevis (Power Climate Smarter Living) og at gøre det muligt at leve fossilfrit inden for én generation. Det er en forpligtelse over for vores kunder, interessenter og medarbejdere, der giver en tydelig kurs, engagement og fokus samt betydelige forretningsmæssige muligheder.
Der skal sættes fart på indførelsen af fossilfri energi, og Vattenfall fremmer omstillingen ved hjælp af yderligere elektrificering og større fokus på vedvarende energi.
Vores holdninger til fremtiden
Vores holdninger understreger vores strategi og repræsenterer vores indstilling til, hvad der er nødvendigt for at sikre Vattenfalls succes i betragtning af den overordnede sammenhæng, vi opererer indenfor.
Bæredygtighed er forretningen – og en forudsætning for adgangen til kunder, kompetencer og investorer
Kunderne ønsker at reducere deres CO2-fodaftryk, medarbejderne søger efter virksomheder med stærke værdier, og investorer integrerer i stigende grad bæredygtighed i deres beslutningstagning. Virksomheder, der opfattes som fremsynede og bæredygtige, vil kunne udnytte interessenternes forventninger til deres fordel.
Et samlet energiperspektiv er nødvendigt for at kunne imødekomme kundernes behov bedst muligt
Kunderne søger ofte efter enkle, integrerede løsninger, der ikke kræver, at de er eksperter. Virksomheder, som kan levere enkle løsninger, der virkelig fokuserer på kundernes behov ved effektivt at udnytte deres ekspertise på tværs af hele energiværdikæden, vil have en stærk konkurrencemæssig fordel.
Yderligere elektrificering er en nøglefaktor til fremme af en fossilfri levevis
Elektrificering udgør en mulighed for at reducere CO2-udledningerne i sektorerne transport, varmeproduktion og industri. Leverandører af fossilfri el og varme, og de respektive netoperatører, kommer til at spille en stadigt vigtigere rolle i arbejdet med at bekæmpe klimaforandringerne.
I betragtning af den hastighed der er nødvendig, vil efterspørgslen efter fossilfri el og distributionsinfrastruktur stige betragteligt.
Digitalisering af hele energiværdikæden er påkrævet for at udnytte fleksibiliteten og yde den nødvendige service til kunderne
Efterhånden som mængden af bæredygtige ressourcer stiger og industrisektorerne bliver elektrificeret, vil elnettene blive udfordret, så det bliver nødvendigt at udnytte eksisterende infrastruktur og potentialet for fleksibilitet bedre. Derudover forventer kunderne omgående information og adgang, fordi smartphoneapps og internetbaserede løsninger er den primære grænseflade for kundeservice og -interaktion. Det vil en digitaliseret energiværdikæde gøre muligt.
Nye kompetencer, hurtig læring samt mangfoldige og inkluderende teams er kritisk vigtige i energiomlægningen
Efterhånden som vores branche omstiller sig til nye måder at interagere med kunder, teknologi og samfundet på, vil der være et konstant behov for nye faglige kvalifikationer og kompetencer. Hurtig læring og evnen til at tilpasse sig nye måder at arbejde på vil være vigtige konkurrencemæssige fordele og gøre det muligt at levere nye produkter og mere effektive processer. Virksomhedskulturer, der er inkluderende i forhold til forskelligartede synspunkter, vil være kritisk vigtige for at fremme et lærende miljø samt tiltrække og fastholde talentfulde medarbejdere.
Omkostningseffektivitet og konkurrenceevne er forudsætninger for værdiskabelse og vækst
Øget konkurrence i både kerneforretninger og nye forretningsområder lægger pres på marginerne, hvilket gør det nødvendigt at fokusere på både omkostningseffektivitet og konkurrenceevne for at kunne levere værdi. Forbedring af effektiviteten i hele værdikæden vil spille en vigtig rolle.
Vores fem strategiske fokusområder
Vi har opdateret vores strategihjul for bedre at vise, hvordan vi skaber drivkraft i betragtning af den kontekst, vi opererer i, og hvordan vi griber forretningsmuligheder for at understøtte vores formål Power Climate Smarter Living og vores mål om at gøre det muligt at leve fossilfrit inden for én generation.
Fremme af dekarbonisering i samarbejde med vores kunder og samarbejdspartnere med fokus på at øge kundefokus og fremme elektrificering og klimaintelligente energiløsninger på områder, hvor vi har en konkurrencemæssig fordel.
Sammenkobling og optimering af energisystemet med fokus på maksimering af værdien af fleksibilitet og fremme af en stabil og omkostningseffektiv elnetinfrastruktur.
Sikring af en fossilfri energiforsyning med fokus på vækst inden for vedvarende energi, maksimering af værdien af vores eksisterende fossilfri aktiver samt implementering af vores CO2-køreplan.
Styrkelse af vores medarbejderes kompetencer med fokus på at sikre de nødvendige kompetencer, samtidig med at vi forbedrer medarbejderrejsen og sørger for et sikkert arbejdsmiljø.
Levering af aktiviteter med et højt præstationsniveau med fokus på at være både konkurrencedygtige og omkostningseffektive, hvor vi udnytter mulighederne inden for digitalisering og tager socialt og miljømæssigt ansvar i hele værdikæden.
Relateret indhold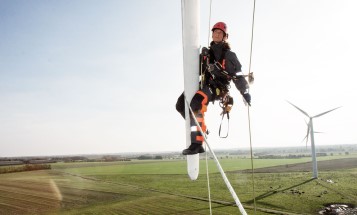 Vattenfalls to forretningsområder i Danmark hedder Produktion og Energy Trading.
Se også
Vi har gennemført en undersøgelse for at opnå en dybere forståelse af, hvordan diskussione...