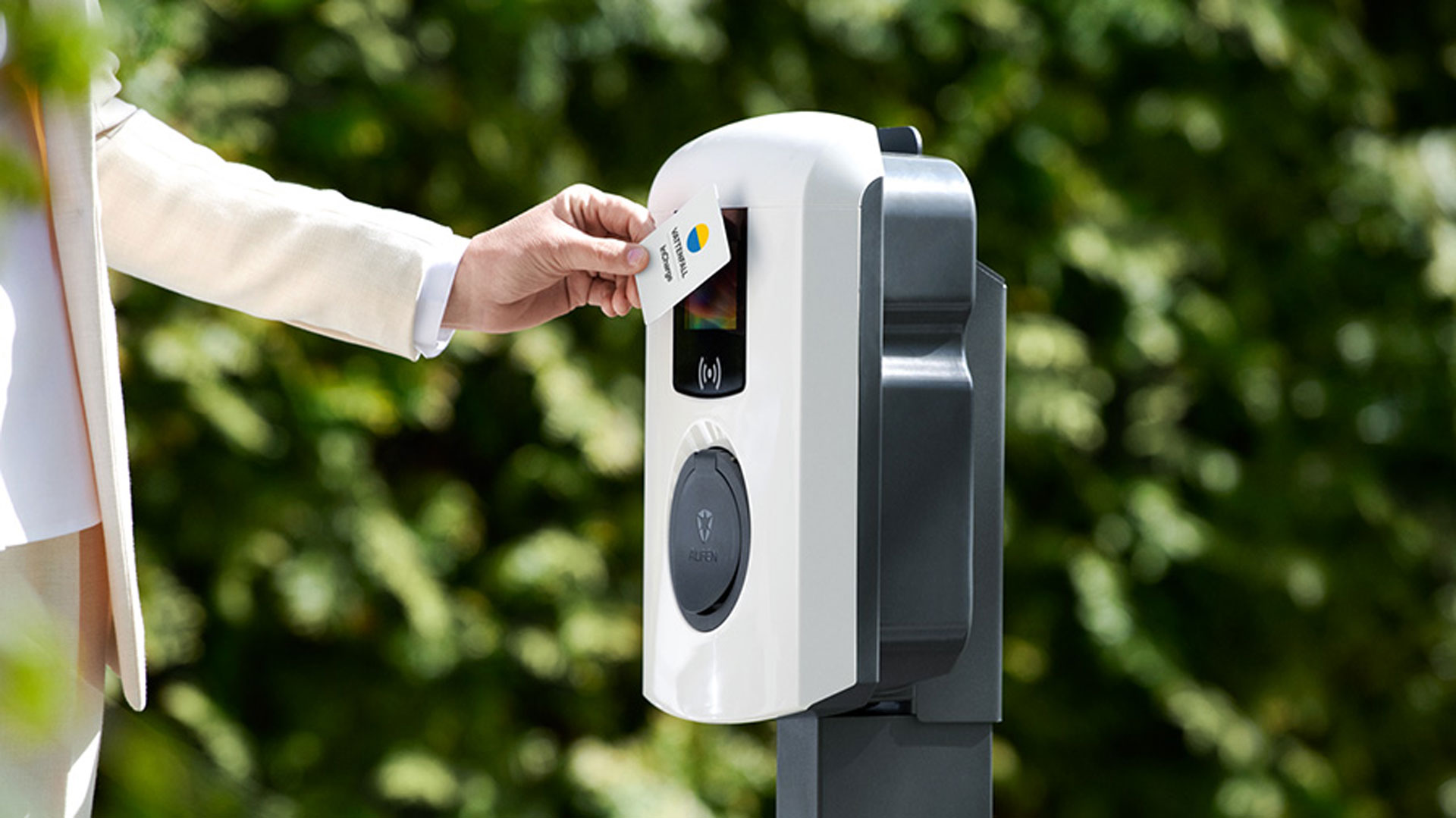 Fleksibel opladning reducerer udgifterne og øger netstabiliteten
Styret opladning af elkøretøjer kan sikre bydende nødvendig fleksibilitet. I Berlin og Amsterdam tester Vattenfall fleksibel opladning i to nye interessante projekter.
Den voksende elektrificering i vores samfund øger behovet for el fra vedvarende energikilder. Men fordi produktionen af vedvarende energi svinger, bliver det hele tiden vanskeligere at skabe balance mellem udbud og efterspørgsel. Spørgsmålet er så, hvor vi kan finde den nødvendige fleksibilitet i efterspørgslen for at sikre netstabiliteten? Ét svar er at same og centralt styre små enkeltanlæg og forbrugere med et potentielt fleksibelt behov for dermed at udligne udsving.
I takt med at antallet af elkøretøjer stiger, kan transportsektoren også bidrage. Vi taler med Thorsten Möller fra Vattenfall Energy Trading om de muligheder, som elektromobilitet rummer for elmarkedet.
Hvilken forbindelse er der mellem Vattenfalls BA Energy Trading og elektromobilitet?
Vores BA Energy Trading har til opgave at optimere vores egne og kundes anlæg og skabe markedsadgang med henblik på køb og salg af el. Tilførslen af el fra vedvarende energikilder, som ændrer sig afhængigt af vejrforholdene, skaber ikke kun udfordringer for netoperatørerne, men fører også til kraftige prisudsving på det såkaldte korte elmarked, som vi imidlertid kan bruge til vores anlægsoptimering. På den ene side støtter vi netoperatørerne ved at levere fleksibilitet til elnettet, de såkaldte systemtjenesteydelser. På den anden side kan vi markedsføre denne fleksibilitet på elbørsen og opnå yderligere indtægter. Dette sker f.eks. på det kortfristede intraday-marked, hvor produkter handles i 15-minutters intervaller for den pågældende dag. Her kan elektromobilitet også spille en rolle. Forudsætningen er, at et så stort antal elkøretøjer som muligt samles i en pulje, og at ladeprocesserne styres fra en fælles platform. Det er en opgave for vores IT-afdeling. Hvis en sådan forbindelse er tilgængelig, er det muligt at optimere opladningsprocesserne for elkøretøjerne, eller også kan der leveres systemtjenesteydelser.
Er der konkrete eksempler på udnyttelsen af fleksibiliteten ved elektromobilitet på elmarkedet?
Vi befinder os stadig i de indledende faser af denne proces. Der er to pilotprojekter i gang. I Holland med offentlige ladestationer og i Tyskland med en flåde af elbiler fra Berliner Stadtreinigung (BSR).
Hvis den hollandske transmissionsnetoperatør TenneT har brug for mere elektricitet i nettet, vil den såkaldte Flexibiliy Services-platform i vores Energy Trading-afdeling reducere ladekapaciteten på en række offentlige ladestationer. Dette sker kun i nogle få minutter og indebærer ikke en større begrænsning for kunden. Tværtimod understøtter kunden dermed aktivt integrationen af svingende produktion fra vedvarende energikilder. Vi gør dette muligt ved at forbinde InCharge, vores internationale opladningsnetværk, til Flexibility Services-platformen. Dette system kan til enhver tid inddrage alt fra yderligere ladestationer til private ladeudtag.
I Tyskland optimerer BSR opladningsprocesserne i sin flåde af elkøretøjer. Grundlaget for optimeringen leveres af Vattenfalls Engergy Trading-afdeling med en opladningsplan, som udarbejdes ved hjælp af vores prisprognose for den følgende dag. BSR får således en optimal opladningsplan og kan drage fordel af lave priser om natten eller på tidspunkter, hvor tilførslen af vedvarende energi er stor, og priserne derfor er lave.
Hvad er fordelen for forbrugerne, hvis de stiller deres elkøretøjers fleksibilitet til rådighed?
Ved at deltage i et sådant sammenkoblet system kan virksomhederne få deres køretøjsflåder opladet på tidspunkter med lave engrospriser og dermed reducere deres elregninger. På B2C-området er fleksible eltakster eller timetakster særligt velegnede, idet de er baseret på udviklingen i engrospriserne. Man kan forestille sig, at der tilbydes en eltarif, som ændrer sig med engrospriserne, dvs. varierer fra time til time og er specielt gunstig, hvis priserne på engrosmarkedet er særligt lave på grund af stor tilførsel af el og lav efterspørgsel. Dette ville være et incitament for forbrugerne til at oplade deres køretøjer på disse tidspunkter og dermed reducere udgifterne. Samtidig bidrager en sådan ladeadfærd til at stabilisere nettet. Og her kan der udvikles mange interessante forretningsmodeller. Det bliver endnu mere interessant, hvis også netafgifterne er underlagt en sådan dynamik, som det i øjeblikket drøftes af politikerne.
Derudover kan der opnås yderligere indtægter ved at stille systemtjenesteydelser til rådighed. Hvad der er muligt i det enkelte tilfælde, afhænger i høj grad af de landespecifikke reguleringer, men også af et godt cost-benefit-forhold, dvs. af meromkostningerne til at stille systemtjenesteydelser til rådighed og de heraf følgende merindtægter. Det er en fordel for alle parter, når systemtjenesteydelser bliver stillet til rådighed: det gør det lettere for netoperatøren at opretholde netstabiliteten og Vattenfall bliver betalt for systemtjenesteydelsen, som for størstedelens vedkommende gives videre til kunden.