Wind power
Rapid growth of wind power is happening.
Renewable energy is key to a fossil-free future
Driven by society's need to tackle climate change, renewable energy generation continues to grow. Wind power alone is now providing 16% of Europe's generation. The energy industry is approaching a tipping point, and today, wind and solar are often the cheapest forms of new generation. The whole energy system is changing, and wind power is one of the most important energy sources for driving decarbonisation.
A market leader in onshore and offshore wind
Vattenfall's purpose is clear. We want to make fossil-free living possible within one generation. Expanding and integrating new renewable generation capacity is a core part of that mission. Today, 35% of Vattenfall's generation capacity comes from renewable sources, and wind power is a growing pillar of our strategy. We are aiming for a strong portfolio of onshore and offshore wind in combination with solar and battery technology – to continue to play a strong role in the European energy transition.
Offshore wind will be the backbone of the hydrogen economy
Thanks to its high number of full-load hours it is particularly well suited for the production of fossil-free hydrogen. Therefore, Vattenfall is investigating several projects and initiatives across Europe and is a founding member of the initiative AquaVentus, which has the ambition to install 10 GW of Offshore Hydrogen capacity in the German North Sea until 2035. ​
​
We believe that cost-competitive fossil-free hydrogen can be achieved by 2030 by combining scale, standardisation and innovation in dedicated hydrogen-producing offshore wind farms.
Wind power at Vattenfall
Rapid growth of wind power is happening and Vattenfall is looking into further minimising the carbon footprint of wind turbines. Learn more in this video.
We are a market leader in both onshore and offshore wind, with around 50 wind farms in operation across five countries. Vattenfall is well underway with its growth plan given the successful tenders awarded for Hollandse Kust South 1-4 and Vesterhav South/North as well as successful project developments in onshore, such as Blakliden/Fäbodberget. In September 2021, Vattenfall had more than 2GW of capacity under construction.
Examples of our flagship projects​
Kriegers Flak offshore wind farm
Kriegers Flak offshore wind farm has a capacity of 604 MW which makes it Denmark's and Scandinavia's largest offshore wind farm. It will increase Danish wind power production by 16 per cent and its 72 offshore wind turbines are able to cover the annual energy consumption of approximately 600,000 Danish households,
In May 2020, Vattenfall put the first foundation in place, and at the beginning of 2021, the first out of 72 wind turbines was installed. Since then, the remaining turbines have been continuously installed and put into operation at the location in the Baltic Sea, 15-40 kilometres off the Danish coast.
Horns Rev 3 offshore wind farm
Horns Rev 3's 49 wind turbines have a total installed capacity of 407 MW, making it Denmark's and Vattenfall's largest wind farm. Horns Rev 3 is located 25 to 40 km off the west coast of Jutland and generates around 1,700 GWh annually, thereby increasing Danish electricity generation from wind by around 12%. This is enough to cover the annual consumption of around 425,000 Danish households.
Blakliden/Fäbodberget onshore wind farm
Blakliden Fäbodberget, located in northern Sweden, is Vattenfall's largest onshore wind farm to date. The annual production of just over 1 billion kWh equals the consumption of around 220,000 Swedish households.
Construction began in 2018 and the wind farm went into commercial production in spring 2022. As the turbines are taller, have a longer life span than previously and with a clear environmental focus on both transportation and choice of materials, the overall emissions during the next 30 years are estimated to be as low as 8 grams of CO2 per kWh.
The wind farm is located in Åsele and Lycksele municipalities, just south of the Arctic circle. The transportation of the many rotor blades and the construction work were challenging as temperatures reached as low as -30 degrees C from time to time, but all 84 wind turbines are now installed and in operation.
Aberdeen offshore wind farm
In Aberdeen, off the coast of Scotland, Vattenfall operates Aberdeen Offshore Wind Farm, also known as the European Offshore Wind Deployment Centre (EOWDC). The turbines with 8.8 MW – the largest worldwide at that time – generated their first power in 2018. All eleven turbines are installed on a new foundation type, the environmentally friendly three-legged jacket foundation with suction buckets. The clean energy generated by the wind farm is transported via 66 kilovolts of cabling, which can carry twice as much electricity as conventional lines. This wind farm is an example of power generation that is both competitive and clean.
This confirms that Vattenfall is successfully reducing costs along the entire value chain. The further development of the project is now underway: over a total area of 325 square kilometres and about 22 kilometres off the Dutch North Sea coast, with an installed capacity of up to 750 MW. Vattenfall estimates it could power up to 1.5 million households upon completion within the next five years.
Hollandse Kust, the world's first non-subsidised offshore wind farm
With the Hollandse Kust 1 & 2 offshore wind farm, Vattenfall is not only making a contribution to the sustainability of the Dutch energy system, but has also set new standards in terms of cost efficiency. Vattenfall is developing the first wind farm worldwide with no guaranteed feed-in tariff.
Hybrid parks combine batteries, wind and solar
Watch the video: Batteries are balancing the grid stability and storing fossil-free electricity. In the Netherlands Vattenfall is combining the three technologies at the Haringvliet energy park.
Synergies of wind, sun and battery storage
Wind and solar energy complement one another well. Solar power works best in the summer, when wind energy output tends to be lower, and wind generation is most effective in winter, when solar energy is low. In our Renewable Hybrid power plants we get the most out of the combined potential of solar, wind and battery technology and support balancing of the grid system.
In the Netherlands, we are building a solar park at the Haringvliet wind farm. It will be combined with a battery storage facility to support the integration of renewable energy into the system.
Wind – the fuel for electrification
To protect the climate, fossil fuels must not only be reduced in the electricity sector, but also in sectors such as transport, heat and industry. Integrating electricity from renewable energy sources into these sectors through the use of technology is called sector coupling. Sector coupling will play a key role in our strategy to use reneawble energy sources. Whenever there is excess of supply of electricity from wind and solar energy, it can be utilized in various ways with sector coupling applications, such as hydrogen, power-to-heat or batteries for e-mobility. Vattenfall invests in facilities to produce green hydrogen used in the industry or transport sector.
Wind power and the environment
The largest environmental impact of Wind power is during the building phase due to production of equipment and transportation. We carry out an Environmental Product Declaration (EPD) to assess the impact of both onshore and offshore wind projects. Wind power emits no CO2 when producing energy and it is the fastest growing energy source in the EU.
EPD for wind
We carry out an Environmental Product Declaration (EPD) to assess the impact of wind projects.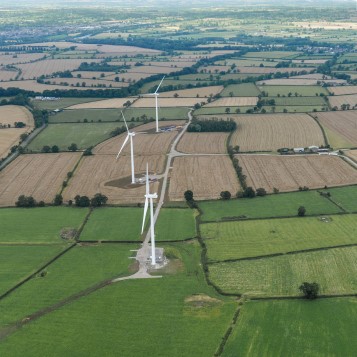 See also
We have decided to make the biggest leap yet to reduce the impact of climate change.