Aultmore Wind Farm Project
Vattenfall is in the early stages of redesigning its consented Aultmore Wind Farm scheme, approximately 6km north of Keith and 7km south of Buckie in Moray, Scotland.
Aultmore Wind Farm was consented by Moray Council in 2014 as a 13-turbine scheme. Since then, significant advances in turbine technology have taken place with more powerful turbines becoming available. As such, Vattenfall is looking to redesign the scheme in order to increase the amount of fossil-free electricity that can be produced and increase the benefits to the local area.
Public exhibitions
Our project team held public exhibition events in the local area in March 2022 for people to find out more about the proposal at an early stage and provide feedback. The events included a variety of information as well as the opportunity to talk to the project team.
The exhibition information, including 'comments forms' (for people to provide feedback to Vattenfall on the project at this stage), can be viewed below.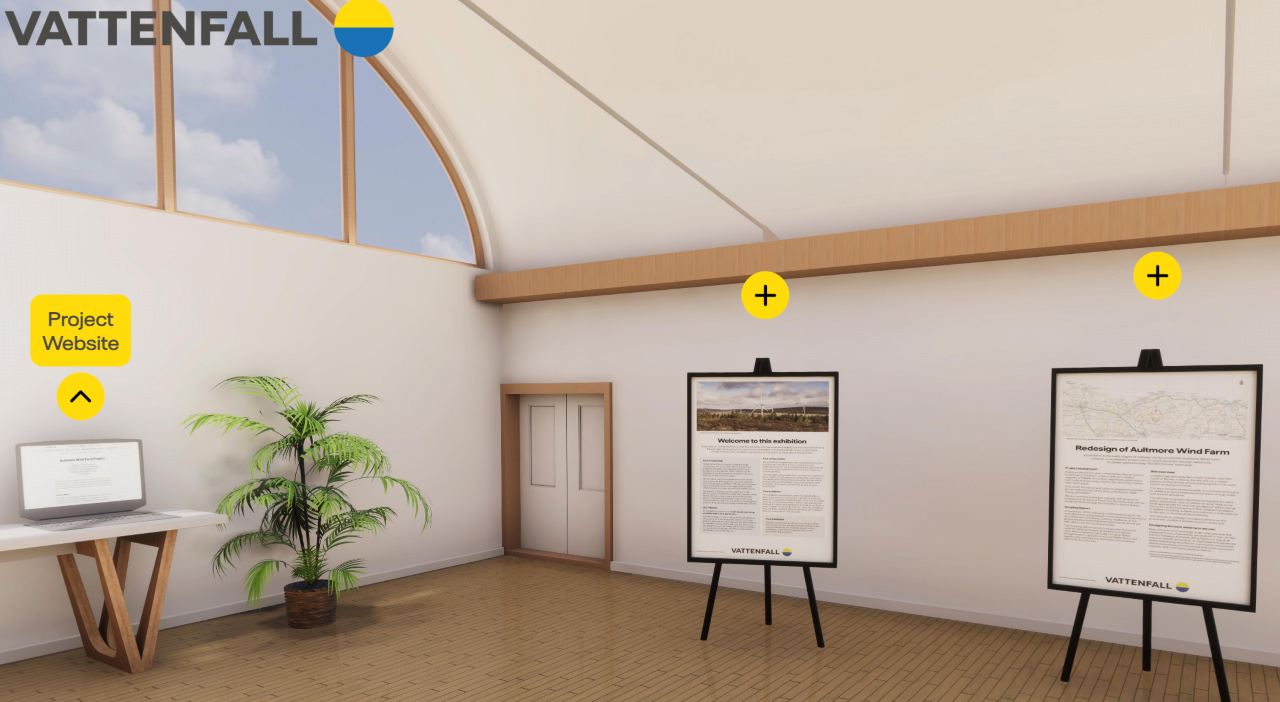 Public Exhibitions
To view the information that was presented at the local public exhibition events just click on the link below.
The events were advertised in the local media and the first edition of our project newsletter was issued to over 800 households in the local area to help raise awareness of the proposed redesign and public exhibitions.
Commenting on the proposal
A consultation period was launched on Tuesday 22nd March for people to provide feedback on the proposal which could help shape the design.
Anyone wishing to provide feedback to Vattenfall on the proposal at this stage can submit comments in writing on a 'comments form'. This form is available online by clicking on the 'Exhibition information' link in the box above and navigating to the 'Feedback' heading within the virtual village hall. We would advise reviewing the exhibition information first to help inform any feedback that you may wish to submit on the proposal.
Comments can also be submitted by email to: aultmore.windfarm@vattenfall.com or by post by writing to: Aultmore Redesign Project Team, Vattenfall Wind Power Limited, St Andrew's House, Haugh Lane, Hexham, Northumberland, NE46 3QQ.
Hard copy comments forms will also be made available upon request by getting in touch with our project team using the contact details above.
The closing date for feedback to Vattenfall on the proposal at this stage is Friday 22nd April 2022. There will be a further opportunity to comment on the project later in the design development process.
Any comments submitted to Vattenfall on the proposal at this time are not representations to the determining authority (Scottish Government's Energy Consents Unit). Should a formal Section 36 application for consent be submitted for this proposal there will be an opportunity at that time for people to submit formal comments to the determining authority.
About Aultmore - redesign
The site lies on a raised plateau of land across several low-lying hills and consists predominantly of commercial forestry in an area known as Aultmore Forest.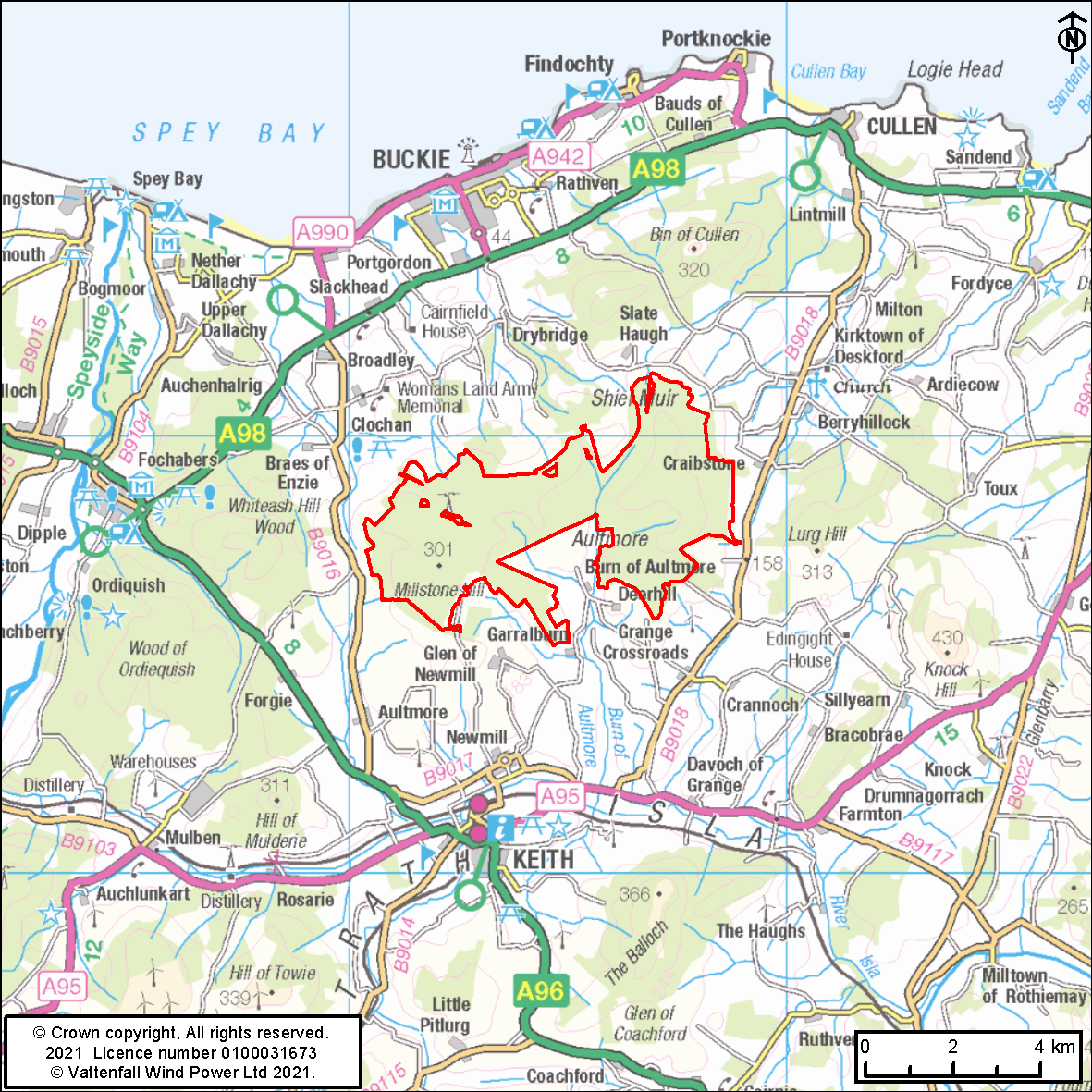 Wind farm location map
The red line boundary shows the location of the wind farm proposal.
A Scoping Report was submitted in November 2021 to the Scottish Government, as well as other key consultees, seeking feedback on the proposed scope of environment work which will help to inform the redesign.

The Report also sets out a proposed 16-turbine scheme utilising modern and efficient turbines, each with a maximum tip height of up to 200m and generation capacity of around 6MW, which will significantly increase the generation of renewable electricity from the site.
Based on the 16-turbine redesigned layout, the 96MW scheme could provide a community benefit fund of around £480,000 a year to the local community and generate enough electricity annually for 70,000 homes. Further information on Vattenfall's approach to community investment can be found here.
What's next?
The comments received from the public exhibitions, together with feedback from key consultees and the findings from the environmental survey work, will help to shape and inform the design development over the coming months.
We will also hold a second series of public exhibition events later in the design development process.
Based on the current project programme we are expecting to submit a Section 36 application to the Scottish Government in early 2023. The Scottish Government will be the determining authority for the redesigned scheme, rather than Moray Council, due to the installed capacity being over 50MW.
Download the Scoping Report
Why wind power?
Scotland has set its goal to reach net zero by 2045, and renewable energy projects such as the redesign of Aultmore Wind Farm will provide the platform for the decarbonisation of homes, businesses and transport needed to reach this ambition. Onshore wind can make a significant contribution, and we can deploy more powerful turbines than ever before.

Onshore wind is now the cheapest way to generate electricity of any kind (in addition to large scale solar). Across the UK, there is already around 14GW of onshore wind built and it is now one of the cornerstones of the UK electricity mix. It is estimated that by 2030, 30GW of onshore and offshore wind will be required to meet our climate targets at the lowest cost to the consumer.

Onshore wind also brings benefits to host communities and the broader economy. We will offer a community investment package in line with prevailing Scottish Government guidance for local communities to invest in the priorities which matter to them.

Across the economy, there are also many opportunities for Scottish businesses to get involved in onshore wind projects - ranging from environmental studies and civil engineering through to site security and catering. Historically, over 70% of Vattenfall's onshore wind expenditure has been here in the UK, with British businesses.
About Vattenfall
Vattenfall is one of Europe's leading energy suppliers with 20,000 employees. Owned by the Swedish state, for over a century we have worked to electrify society.

Over the last decade we've had an extensive presence in the UK, growing our wind business from one project in 2008 to 11 today and investing more than £3.5billion in enough wind to power 800,000 homes.

Today, Vattenfall is driven by the ambition to enable fossil free living within one generation. This is not our sustainability strategy - it's our business strategy. And it is sustainable. We are not just phasing out fossil-emissions from our own operations, we are working in close partnerships with our customers to help them do the same. We have more than 100 years of experience of innovation, and a large and growing portfolio of sustainable and fossil-free electricity.

We also have clear values and a strong ethos that places emphasis on working closely with local communities to make sure that we are developing projects which can bring a lasting sustainable benefit to the community and future generations.
Get in touch
If you have any questions about the Aultmore Wind Farm Redesign at this early stage, or would like further information, you can get in touch directly with our project team by emailing aultmore.windfarm@vattenfall.com or writing to them as follows:

Aultmore Redesign Project Team
Vattenfall Wind Power Limited
St Andrew's House
Haugh Lane
Hexham
Northumberland
NE46 3QQ
See also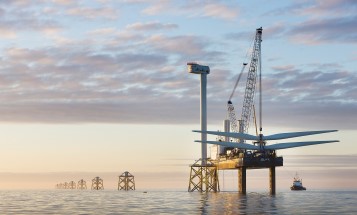 The wind industry is expected to generate thousands of skilled jobs across the UK.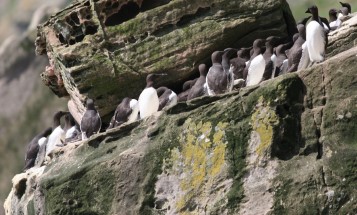 At our wind farms a year round programme of environmental monitoring takes place.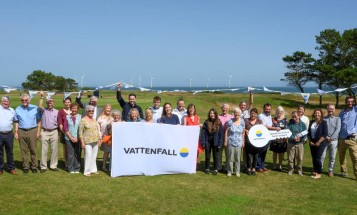 We invest over £2.5mn into the local communities hosting our wind farm projects each year.